At the level of research and scholarship, the Prairie Centre for the Study of Ukrainian Heritage (PCUH) provides individual support; disseminates the results of research conducted under its auspices; organizes symposia, conferences and exhibitions; promotes dialogue between various disciplines, perspectives, and communities; and encourages young scholars specializing in the area by providing scholarships at the graduate level. The Heritage Press serves as the publishing arm of the PCUH. The PCUH also has an important outreach component in its programming mandate, working with the community on special projects and events. All programming at the PCUH is supported by endowments as well as individual contributions.
---
The Prairie Workshop: Decolonizing European and Soviet History Curricula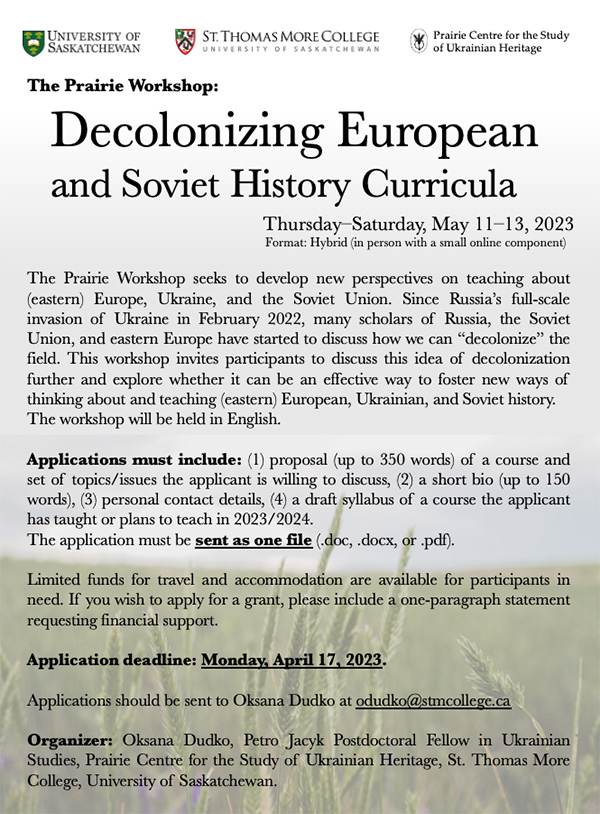 Our Petro Jacyk Fellow, Oksana Dudko, is organizing a workshop entitled, The Prairie Workshop: Decolonizing European and Soviet History Curricula on May 11–13, 2023.
We welcome applications from course instructors across academic disciplines, including but not limited to history, political science, literature, anthropology, language studies, war studies, displaced people and refugee studies, human rights, genocide studies, sociology, and international law, who teach courses on European, Soviet, East Central European, or Ukrainian history and are willing to discuss their syllabi. We welcome applicants at any career stage, but they must be teaching or anticipate teaching a relevant university-level course in the 2023/2024 academic year.
We also welcome applications from educators, archivists, librarians, or project
managers who are involved in educational, translational, or digitalized collections
projects on Ukrainian, Jewish, or East Central European history.
Download the information sheet HERE