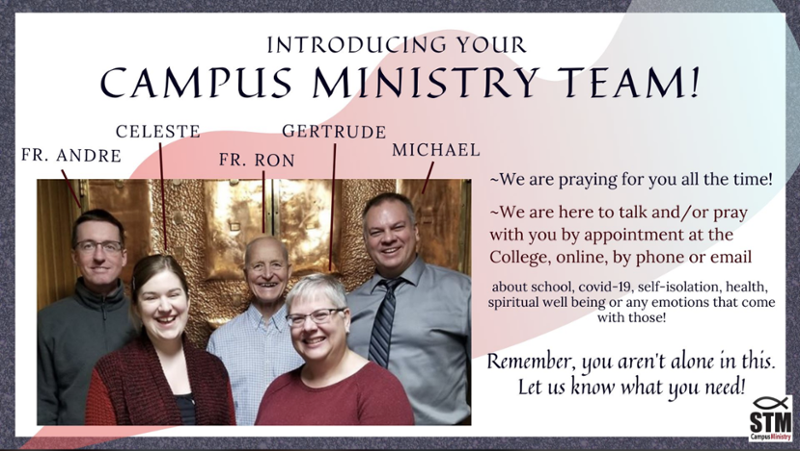 What Does Campus Ministry Do?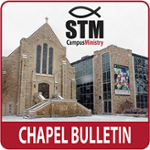 STM Campus Ministry endeavour to foster healthy faith growth, facilitating programs and events that encourage dialogue and reflection between faith and reason. STM ministers offer confidential listening, as well as spiritual and personal guidance to students, faculty, and staff of all backgrounds.
The Campus Ministry team currently consists of Michael MacLean, Fr. André Lalach and Celeste Woloschuk working in collaboration with Basilian Father Ron Griffin. Dr. Gertrude Rompre is the Director of Mission and Ministry for the College.
Campus Ministry at STM works closely with Campus Ministers from other Christian denominations and faith traditions through the University of Saskatchewan Faith Leaders Council (FLC).
Within the College, the team partners with the Newman Centre, STMSU, Development and Peace Just Youth Group, Knights of Columbus, as well as relating to the St. Thomas More Worshipping Community.  STM Campus Ministry maintains strong professional connections with the Canadian Catholic Campus Ministry (CCCM) and the Canadian Catholic Students' Association (CCSA), and through the CCSA, the IMCS (International Movement of Catholic Students).  The Campus Ministry Team is accountable to the President of St. Thomas More College and the Roman Catholic Bishop of Saskatoon for its pastoral activities.
MISSION STATEMENT
The mission of Campus Ministry at St. Thomas More College is to serve and bear witness to the Gospel of Jesus Christ by means of:
I. Presence to the College and University,
II. Development of faith community,
III. Celebration of word and sacrament,
IV. Empowerment to service, especially to the poor and marginalized.
---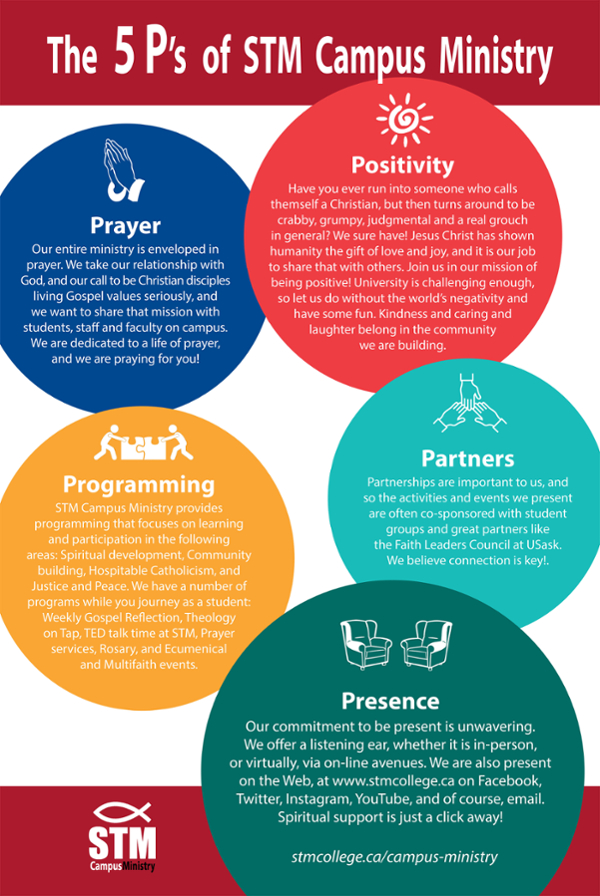 Many Ways to Get Involved
Campus Ministry invites you to join us in serving our community and striving for social justice.  We all have different gifts to offer. 
Bible Study
Are you interested in praying with the scriptures once a week for an hour?  Come explore and reflect upon the Gospel, using the ancient prayer form of Lectio Divina - spending time with the Word of God.  We gather in STM Room 158 (just off the STM Student Lounge):
For more information, contact: Michael MacLean.
Volunteer at Mass
The Sunday Eucharist is central to the life of the worshipping community at St. Thomas More College.  We have many opportunities for individuals who feel called to use their gifts in ministry during our liturgies:
Lectors (Readers) are called forth from the community to proclaim the word of God.  As a lector, your ministry calls you to help the community recognize God present in the Liturgy of the Word at Sunday Mass and/or daily liturgies each week.  A good speaking voice, an ability to read in public, and a willingness are necessary for this ministry.  Formation and training in the fall and on an individual basis.
Music Ministers (Choir Members) help to lead the community in song with their voices and/or instruments. Contact Campus Ministry for more information.
Newman Centre
Campus Ministry works directly with the Newman Centre, the Catholic club on campus that has been at the University of Saskatchewan since 1926, predating St. Thomas More College by ten years!  Newman invites members from all colleges, and all backgrounds (no, you don't have to be Catholic to join), to offer community building activities like the Annual Newman Retreat in January, Coffee Houses, TED talks, Movies in the Murray room, and events after 7:30 pm Sunday mass!
For more information, contact  Michael MacLean, the Campus Ministry liaison with the Newman Centre.
Development & Peace Just Youth
Do you believe that when the enormous wealth of the world is held by a precious few, and 2 billion people in the world lack access to fresh water and sanitation, that there is something radically wrong?  Want to do something about it?  Join the Development and Peace Just Youth Group on campus. 
Meetings are Fridays at 12:30pm in STM room 2001.
For more information, contact justyouth@stmcollege.ca. or Campus Minister Gertrude Rompre.
Spiritual Mentorship
One of our aims is to mentor students as they integrate their learning with their faith and make sense of the world.  Spiritual mentoring essentially involves one person walking alongside another as a companion on the journey of faith to help them answer the questions: "Who is God?", "Who am I in Christ?", and "To what has God called me as I live out my life."  The campus ministers at St. Thomas More College are always happy to accompany you on your journey of faith.  For more information, please contact Campus Ministry.
Busy Person's Retreat
This campus retreat for busy students is an on-campus, guided-prayer retreat made within the daily activities of the lives of students (and faculty and staff).  The style and method is that of a directed retreat, in which each retreatant meets daily with a director who guides their reading of scripture and their personal prayer.  Beginning on a Monday afternoon and ending on a Friday, retreatants commit themselves to one hour per day, which includes 30 minutes of prayer and reflection with selected Scripture readings and 30 minutes for meeting with a retreat director. Join our facebook page or watch our bulletin board for updates.
For more information, please contact Fr. Andre Lalach.
Marriage or Ministry Discernment
Are you trying to discern if marriage is right for you, or how to navigate this important stage of your life? Are you considering service in the Church?  Campus Ministry can help you in your discernment process.