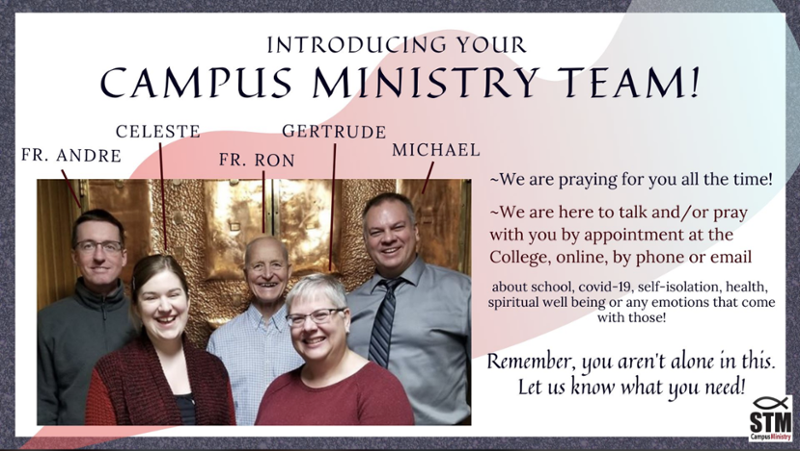 What Does Campus Ministry Do?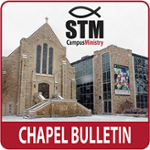 STM Campus Ministry endeavour to foster healthy faith growth, facilitating programs and events that encourage dialogue and reflection between faith and reason. STM ministers offer confidential listening, as well as spiritual and personal guidance to students, faculty, and staff of all backgrounds.
The Campus Ministry team currently consists of Michael MacLean, Fr. André Lalach and Celeste Woloschuk working in collaboration with Basilian Father Ron Griffin. Dr. Gertrude Rompre is the Director of Mission and Ministry for the College.
Campus Ministry at STM works closely with Campus Ministers from other Christian denominations and faith traditions through the University of Saskatchewan Faith Leaders Council (FLC).
Within the College, the team partners with the Newman Centre, STMSU, Development and Peace Just Youth Group, Knights of Columbus, as well as relating to the St. Thomas More Worshipping Community.  STM Campus Ministry maintains strong professional connections with the Canadian Catholic Campus Ministry (CCCM) and the Canadian Catholic Students' Association (CCSA), and through the CCSA, the IMCS (International Movement of Catholic Students).  The Campus Ministry Team is accountable to the President of St. Thomas More College and the Roman Catholic Bishop of Saskatoon for its pastoral activities.
MISSION STATEMENT
The mission of Campus Ministry at St. Thomas More College is to serve and bear witness to the Gospel of Jesus Christ by means of:
I. Presence to the College and University,
II. Development of faith community,
III. Celebration of word and sacrament,
IV. Empowerment to service, especially to the poor and marginalized.
---
STM Peer Health Volunteers
Do you have a caring heart and a willingness to help your fellow students?
STM Peer Health Mentors recognize the importance of health in mind, body and spirit and are willing to reach out and engage other university students to build a greater awareness of the value of student well-being.  This requires dedication, creativity, and collaboration. The Peer Health Mentors at STM will have a unique opportunity to be a part of creating programming, events, and educational opportunities to engage the STM student body while attending USask.
Serving as a Peer Mentor is a valuable form of service that directly impacts our student community.  By volunteering your time, energy, and knowledge, you contribute to the holistic care of fellow students and support them in achieving a sense of belonging in the university community.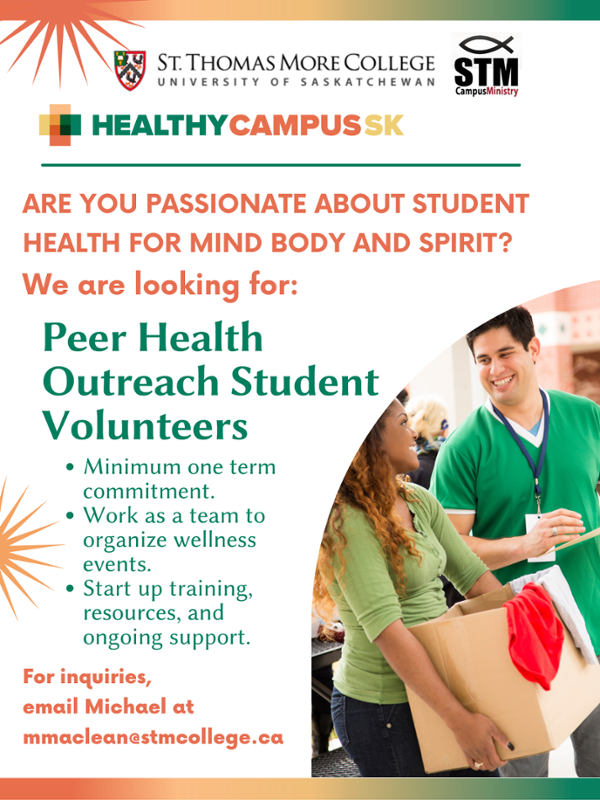 Qualifications:
Currently enrolled in an undergraduate degree, or master's degree program at the University of Saskatchewan.
Experience with STM student organizations or community service-learning will be an asset.
Demonstrated ability and willingness to collaborate and work with others.
Proven ability to work collaboratively and independently with minimal supervision.
Demonstrated ability to communicate effectively both orally and in writing.
Basic organizational skills and ability to pay strong attention to detail.
Time Commitment:
STM Peer Health Mentors will have regular meetings with STM staff advisors in addition to preparation time for activity planning and one organizational meeting in late August: an average of two hours per week for both the fall and winter academic terms (September through April).
The weekly breakdown will normally be one hour per week for check-in meetings, and up to an hour for preparation and promotion of STM Peer health mentor-sponsored events and activities, for a total estimated commitment of approximately thirty (30) hours over the academic term.
Number of Positions Available:
STM is seeking up to ten (10) Peer Health mentor volunteers to begin in August 2021.
Peer Mentor Incentives: 
Leadership and Facilitation Skills – We help you develop skills to add value to your undergraduate experience and to take with you into your chosen career.
Honorariums – Peer Mentors will receive an honorarium once per term, during the term that they volunteer. Honorariums are given as a small gesture of appreciation. STM Peer Mentors serve as volunteers and are not employees of the College.
References – After a successful year in volunteering as a Peer Health Mentor at STM, letters may be written for any Peer Mentors that request a reference from STM's Campus Ministry Department.
Professional Development – Professional Development opportunities will be woven into the weekly peer mentor training. Additionally, there will be opportunities to make connections to university leaders and more.
Supervision:
STM Peer Health mentors will report to STM Campus Minister Michael MacLean.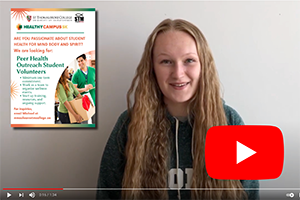 Timelines:
August 6, 2021 – STM Health Mentor online applications due by 12:00 noon.
August 9, 2021 - Those students that are accepted for interviews will be contacted via email and will sign up for a specific time slot for remote interviews.
How to apply:
Interested students should submit a resume to STM Campus Minister Michael MacLean, STM Office 233, or via email at mmaclean@stmcollege.ca as soon as possible.
St. Thomas More College, the Catholic College federated with the University of Saskatchewan, is committed to the principles of Employment Equity and welcomes applications from all qualified candidates. Women, Indigenous people, people with disabilities, and members of visible minorities are invited to identify themselves as members of these designated groups.
---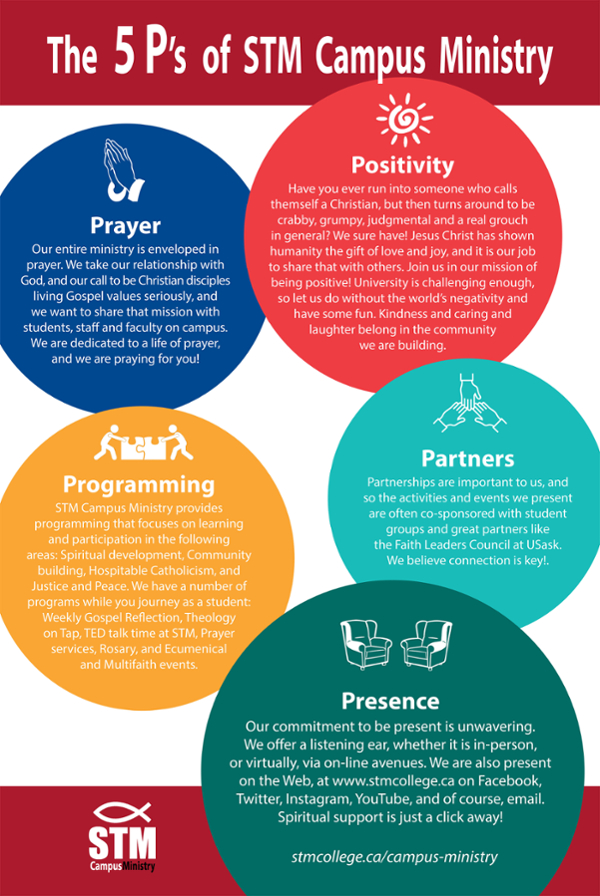 Chapel and Prayer
Attention - Cancellation Notice  
Amid COVID-19 concerns, the STM College building remains closed to the public. 
At this time, the Chapel remains closed to the public. However, we are looking forward to the return of Sunday and weekday liturgies, which we hope will be this coming Fall.  
For the latest update on the re-opening of the Chapel from Director of Mission and Ministry, Dr. Gertrude Rompré, CLICK HERE. 
The Sacrament of Reconciliation (Confession) 
In the Sacrament of Reconciliation, Jesus provides us with a way of being reconciled to God and to those we've hurt, and to be strengthened in our connection to God's entire family.  Opportunities for individual (one-on-one) celebration of the sacrament are available at the College: 
by appointment with Fr. André Lalach at 306-280-2941 
STM at Prayer (official Fall schedule coming soon) 
Eucharistic Adoration:  Come spend some quiet time with our Lord in front of the Blessed Sacrament in the STM Chapel. 
Centering Prayer: In centering prayer, we pray for 20 minutes in silence.  In this busy world with media constantly bombarding us, this is a wonderful opportunity to take some quiet time with God. 
Rosary: The rosary is a devotion in honor of Mary, the Mother of God. It consists of a set number of specific prayers, like the Hail Mary, the Lord's Prayer and the Glory Be.  If you've never tried it, come on out, no previous experience necessary! Rosaries and prayer booklets are also provided. 
Individuals or parents of children needing to prepare for or schedule the sacrament of baptism, please contact Michael MacLean 
Livestream of Mass
A central website has been established for those who wish to access live-streaming of Masses and other online resources created by priests in the Roman Catholic Diocese of Saskatoon. It can be found at https://saskatoonmass.com.
A number of Masses are streamed and archived on the website daily, including a live broadcast at 9:00 a.m. Sunday morning with Bishop Mark Hagemoen celebrating Eucharist at the diocesan cathedral.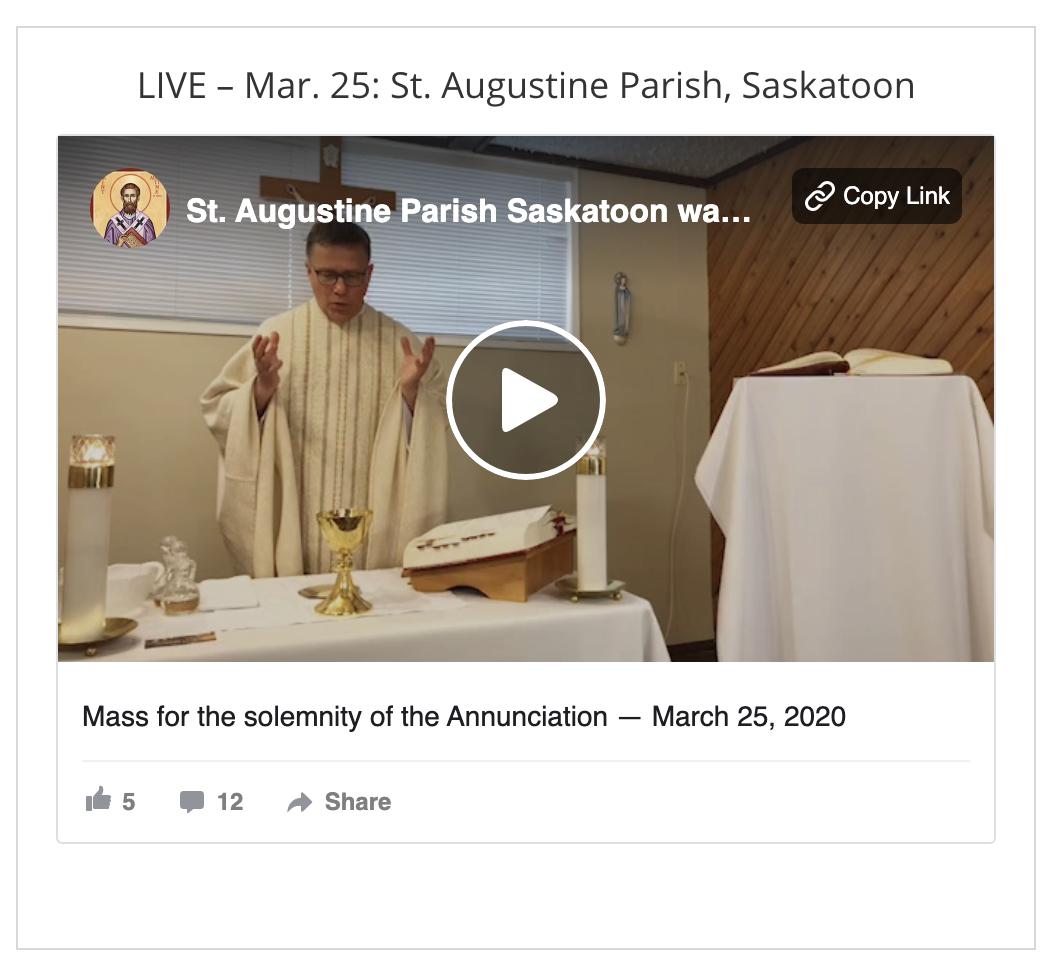 ---
Many Ways to Get Involved
Campus Ministry invites you to join us in serving our community and striving for social justice.  We all have different gifts to offer. 
Bible Study
Are you interested in praying with the scriptures once a week for an hour?  Come explore and reflect upon the Gospel, using the ancient prayer form of Lectio Divina - spending time with the Word of God.  We gather in STM Room 158 (just off the STM Student Lounge):
For more information, contact: Michael MacLean.
Volunteer at Mass
The Sunday Eucharist is central to the life of the worshipping community at St. Thomas More College.  We have many opportunities for individuals who feel called to use their gifts in ministry during our liturgies:
Lectors (Readers) are called forth from the community to proclaim the word of God.  As a lector, your ministry calls you to help the community recognize God present in the Liturgy of the Word at Sunday Mass and/or daily liturgies each week.  A good speaking voice, an ability to read in public, and a willingness are necessary for this ministry.  Formation and training in the fall and on an individual basis.
Music Ministers (Choir Members) help to lead the community in song with their voices and/or instruments. Contact Campus Ministry for more information.
Newman Centre
Campus Ministry works directly with the Newman Centre, the Catholic club on campus that has been at the University of Saskatchewan since 1926, predating St. Thomas More College by ten years!  Newman invites members from all colleges, and all backgrounds (no, you don't have to be Catholic to join), to offer community building activities like the Annual Newman Retreat in January, Coffee Houses, TED talks, Movies in the Murray room, and events after 7:30 pm Sunday mass!
For more information, contact  Michael MacLean, the Campus Ministry liaison with the Newman Centre.
Development & Peace Just Youth
Do you believe that when the enormous wealth of the world is held by a precious few, and 2 billion people in the world lack access to fresh water and sanitation, that there is something radically wrong?  Want to do something about it?  Join the Development and Peace Just Youth Group on campus. 
Meetings are Fridays at 12:30pm in STM room 2001.
For more information, contact justyouth@stmcollege.ca. or Campus Minister Gertrude Rompre.
Spiritual Mentorship
One of our aims is to mentor students as they integrate their learning with their faith and make sense of the world.  Spiritual mentoring essentially involves one person walking alongside another as a companion on the journey of faith to help them answer the questions: "Who is God?", "Who am I in Christ?", and "To what has God called me as I live out my life."  The campus ministers at St. Thomas More College are always happy to accompany you on your journey of faith.  For more information, please contact Campus Ministry.
Busy Person's Retreat
This campus retreat for busy students is an on-campus, guided-prayer retreat made within the daily activities of the lives of students (and faculty and staff).  The style and method is that of a directed retreat, in which each retreatant meets daily with a director who guides their reading of scripture and their personal prayer.  Beginning on a Monday afternoon and ending on a Friday, retreatants commit themselves to one hour per day, which includes 30 minutes of prayer and reflection with selected Scripture readings and 30 minutes for meeting with a retreat director. Join our facebook page or watch our bulletin board for updates.
For more information, please contact Fr. Andre Lalach.
Marriage or Minstry Discernment
Are you trying to discern if marriage is right for you, or how to navigate this important stage of your life? Are you considering service in the Church?  Campus Ministry can help you in your discernment process. 
Campus Ministry Events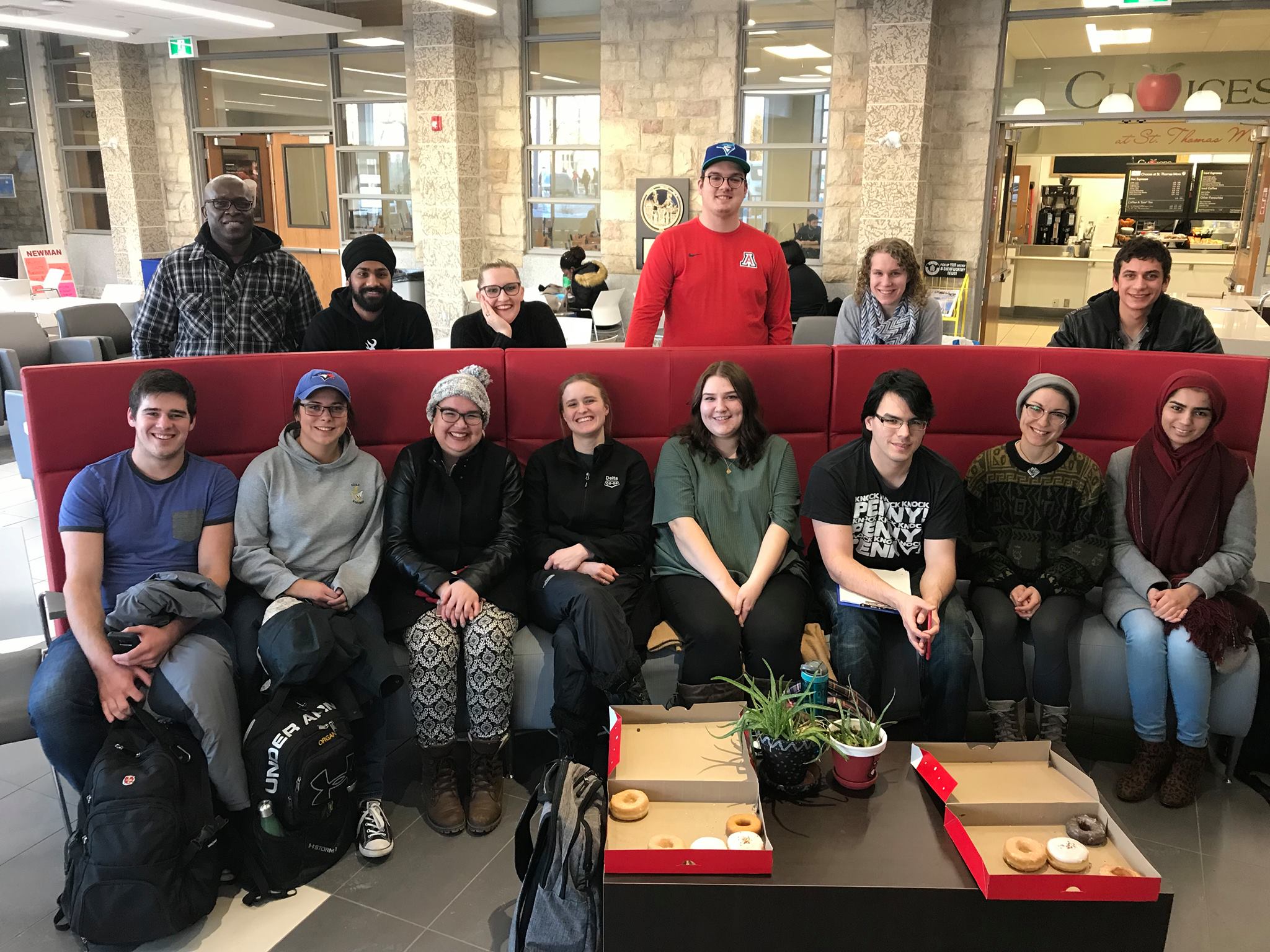 TED talk time
Join us to view and discuss a variety of TED talks, at St. Thomas More College in the Student Lounge.  Our gathering time will be 4:00 pm - 5:00 pm.
For more information, please contact Michael MacLean.
Newman Retreat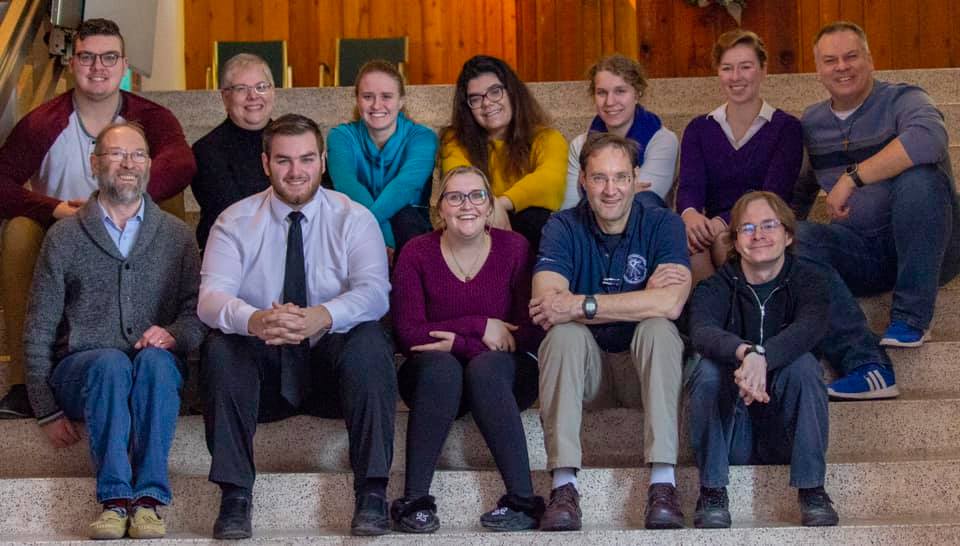 In January, the Newman Centre offers students and faculty an opportunity to take time away from campus to pray and reflect. Through presentations and discussion, songs and prayer, as well as fun activities, students have the opportunity to explore more deeply their relationship with God and their commitment to living a Christian life. Join our facebook page or watch our bulletin board for updates.
For more information, contact Campus Minister Michael MacLean.
Theology on Tap
Theology on Tap sessions are faith-related presentations and theological discussions at Louis' on campus.  They happen once per term, this year in November and February.
Theology on Tap is a collaborative effort involving St. Thomas More College Campus Ministry, the Diocese of Saskatoon Youth Ministry Office and the Eparchy of Saskatoon Young Adult Ministry.  The original Theology on Tap began in the Archdiocese of Chicago, and has been running for 25 years and it is still flowing strong!  Join our Facebook page for updates.
For more information, please contact Michael MacLean.