February 23, 2020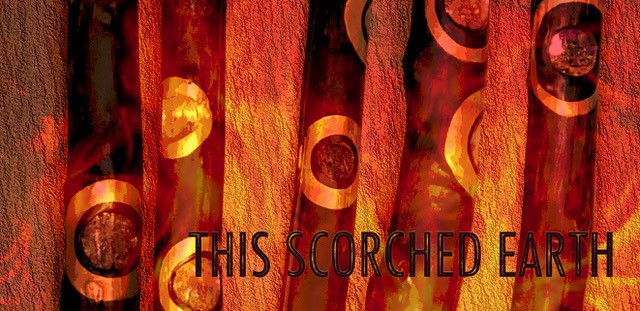 March 9 – May 12, 2020
Louisa Ferguson 'This Scorched Earth'
Please note: due to the outbreak of COVID-19, with the health and safety of our community in mind, our gallery hours are Monday to Friday from 8am to 5pm with building access via our north entrance, adjacent to the Place Riel parking lot. Thank you for your understanding.
As an artist, I create work as a "holder" for intention. My work is narrative based, often centred on archetypal, mythological themes, and how they manifest themselves in contemporary life. I believe my work is most successful when it acts as a resonant gong for the observer.
In this work, I am exploring and expanding on the idea of works of art being reliquaries that preserve connection between humans and the environment, as well as the past and the present.
Over a year, I harvested the dead trees from local bluffs and fields around my rural home and transformed them into shrines. The trees, scorched, polished with bees' wax, and embedded with objects, stand as symbols of loss and devotion. The process of searing, sanding and burnishing the wood harnessed my mourning and transformed the trees into mementos of what I see is being lost in the environment surrounding me. The objects "preserved" in the wood in various stages of death, decay and fading act as ceremonial reminders.
The glass work is also an act of preservation. Using a plaster/silica mixture, I made molds of the surface bark of each tree compartment. I then created the convex glass windows by slumping glass over the molds in a kiln, ensuring that each window is a direct impression of the wood that I bored away. The organic impressions of flora were created by delicately pressing flowers and leaves into wet clay, making a plaster/silica mold of the impression, and casting glass into the open-faced molds. For the glass vessels, I used the pate de verre (glass paste) technique, which is one of the oldest known forms of glass dating back to the early 2nd millennium in Ancient Mesopotamia. I mixed fine glass granules (frit) with water and Gum Arabic to create a paste, which I packed in subsequent layers into plaster/silica molds. I then fired the molds in a glass kiln.

These objects, exhibited together, create a journey of remembrance of a fading landscape.
Louisa Ferguson, February 2020

For more information, please contact Linda Stark, Curator at 306.380.5310 or via lstark@stmcollege.ca