March 29, 2018
Spirit of Saskatchewan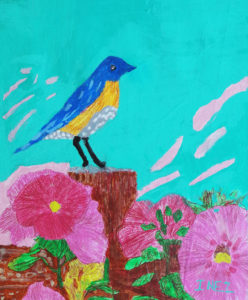 MARCH 26  – MAY 16, 2018
OPENING RECEPTION: FRIDAY, APRIL 6, 7-9pm
STM Gallery is pleased to present this group exhibition of recent work
by the artists of Sherbrooke Community Centre.
The Sherbrooke Art Studio believes that all people have the ability to create. At Sherbrooke Community Centre, Elders and Community Day Program (CDP) participants have the opportunity to pursue a range of creative endeavors by spending quality time in the Art Studio. Artists are provided with a shared studio space, quality art supplies, and professional opportunities to exhibit their work.
A participant does not need prior art making experience to access the studio, but rather an interest in the creative process. The studio provides an encouraging and supportive environment for people with a range of skills and abilities. Studio artists are encouraged to explore a wide variety of media. Drawing, painting, printmaking, sculpture, ceramics and fabric art are included to meet the needs, choices and preferences of each artist.
The Art Studio provides opportunities for artists at Sherbrooke – whether beginners or experienced practitioners – to express themselves, to give back to their community, and to engage fully in life, creating an environment for experimentation and self-expression. An Artist-in-Residence, as well as, visiting artists, student volunteers from the University of Saskatchewan, Saskatchewan Polytechnic, and the community facilitate the Art Studio. Most recently, grade 6 students from the Igen (Intergenerational) program with the Saskatoon Public School District, work with artists through their art club.
Our philosophy does not include teaching art classes but in facilitating the creative process through self-discovery and self-exploration. The artists in the studio find a new voice and this new voice empowers them.
The range of participants is diverse; there are experienced artists with their Masters of Fine Arts Degrees, self-taught artists, and people who have never made art before. It is common that experienced artists are relearning and adapting to the process as reduced and restricted mobility and cognitive challenges present them with new challenges. With perseverance and dedication these challenges grow into strengths. Our current studio artists range in age from 25 to 96 years old.
Five days a week, we play, make a mess, and encourage each other. The Eden Alternative states that one of the fundamental principles of care is that we must recognize, appreciate and promote each Elder's capacity for growth. Studio artists are encouraged to push their limits and expectations while working on purposeful and creative activities.
At Sherbrooke, art is a means of challenging and transforming assumptions about age, disability, illness, and mental health. The artwork provokes fresh perspectives for the personal vision and artistic ability of artists living in long term care.
Alana Moore
Artist-in-Residence
Sherbrooke Art Studio
"The art studio provides me the freedom to express myself in ways I cannot otherwise." – Kelly MacDougall
"I've never painted anything in my life and now I love it. I can't stop. I would come and paint everyday if I could. It's what I look forward to. I just love it." – Inez Moorcraft
"I didn't have a place where I could do art before Sherbrooke. Sherbrooke is the best. I was in another home before Sherbrooke and there was nothing going on and I was so bored, and I should have found a way to do things myself but I wasn't in any place to do anything. I find art a way to say what I have so much trouble putting together into words." – Jeanne Nichol
"The art room relaxes me and shows me how good I can be at something, like art." – Dave Harder
"I never thought I'd be here. I'm a farmer, hockey player and here I am in an art studio, and it's great. I'm having fun." – Ken Udell
"I just, I think I got talent. It's my way of getting it out there. When people talk it don't carry so far. When you make a piece of art, it lingers, you know? Making art is my way of saying, I've been here and deal with it. And you know, I've been doing this a long time. It began as a necessity. When I was young, no one understood me, so if I wanted something, I would draw it. And from there, you know, that's my way of dealing with my world around me. And I don't have to talk. And I know I don't have to bore people, I just paint and draw. It's become a necessity again because I have to prove myself all over again- because of my insecurities. That's always right out there. And some people like it some don't, I don't care." – Paul Sisetski
I found a way of dealing with everything and a way of showing my interest and my sense of humor. And to go back to dark places too. One door closes and another one opens. And that's not up to me. Ideas for art wake me up at night and give me a reason to get up in the morning. I wish it were different, but its not." – Paul Sisetski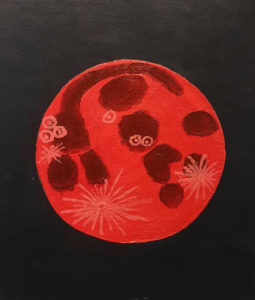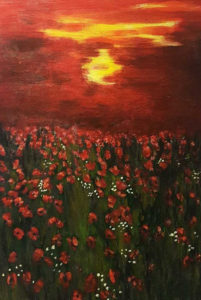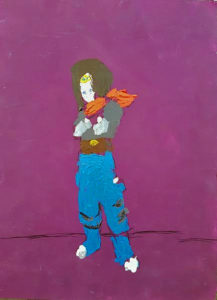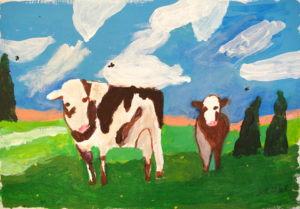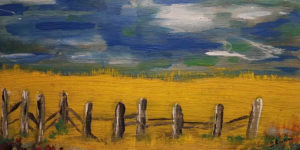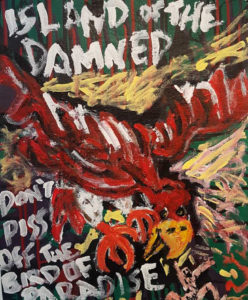 Images:
Inez Moorcraft, 'Mountain Bluebird', 2018, acrylic on canvas.
Jack Coggins, 'Blood Moon', 2017, acrylic on canvas.
Joanne Fleming, 'Poppies at Sunset', 2016, acrylic on canvas.
Dave Harder, 'Dragonball Z: Android 17', 2017, acrylic on paper.
Ken Udell, 'Simmental Cattle in Saskatchewan', 2018, acrylic on canvas.
Judy Buckley, 'Old Prairie Fence', 2018, acrylic on wood.
Paul Sisetski, 'Island of the Damned Series: Don't Piss off the Bird of Paradise', 2018, acrylic on canvas.