June 28, 2018
Cory Chad & Denise Flaman
THE LIMITED
JULY 4 – AUGUST 24
Opening Reception: Thursday, July 5,  7-9pm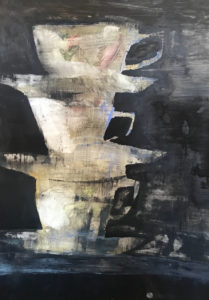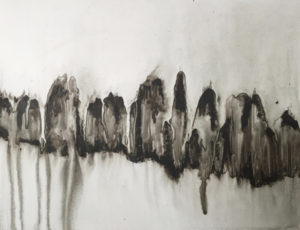 STM Gallery is pleased to present a selection of recent work by Cory Chad and Denise Flaman, both from Prince Albert, SK. We hope you can join us on Thursday, July 5th at 7pm for our opening reception.
A significant detachment from everyday life is required for exploration.  The art studio is treated like a laboratory or a confessional.  The artist goes in to experiment and wrestle with her materials, hoping to extract the truth.  Being in ones studio is not about working in a place of safety, or being assured success.  It is about being respectful towards the idea of "process" and having a willingness to develop patience for unresolved expectations.
This exhibition includes pieces from workshop experiences at the Prince Albert Arts Centre, the drawing studio at the University of Saskatchewan, and the artists' home studios.  Although Cory and Denise work separately, their art reflects an ongoing conversation.  There is a shared appreciation for a sense of rawness, a dryness of colour, and for the subject matter to be rendered in an unusual manner.
To see,
To look,
To gather.
Even when not painting, there is an enthusiastic documentation of ideas. This does not stop.
To forget that time exists.  She's covered in charcoal, it's now dark and the lights are off in the rest of the house, and husbands need to be fed.  This is what happens when two minds go offline.
Cory Chad
Cory Chad was born and raised in Prince Albert, SK. She discovered her love of art in junior high school when she drew her first still life.  Throughout the past seven years, Cory has focused on drawing and painting classes at the University of Saskatchewan.  She has been fortunate to receive instruction from Alison Norlen, Graham Fowler, Allyson Glenn, Terry Billings and George Glenn.  She has also taken workshops from notable artists such as Degen Lindner, David Alexander, Grant McConnell, Iris Hauser and Kim Ennis. Acrylic is her medium of choice but Cory has also worked with oil, charcoal, ink and pastel.
Her exhibition 'Offline' with Denise Flaman, was held in February 2018 at the John V. Hicks Gallery in Prince Albert. She has participated with the KYLA group at the Mann Art Gallery and exhibited her work at Amy's On Second Restaurant, The Bison Café and the John M. Cuelenaere Library. The Mann Art Gallery in Prince Albert has purchased four of her works for their collection, including 'Thin Skinned', which was featured on the cover of their Permanent Collection 2012 Calendar.
cchad@sasktel.net
Denise Flaman
Denise Flaman lives in Prince Albert. She discovered her interest in art during her high school years in Regina, where she was raised. She has been painting for fifteen years in oil, acrylic and various drawing mediums.  She began by taking classes with Christina Thoen in Prince Albert. She has since studied drawing and painting at the University of Saskatchewan, taking courses in Prince Albert and Saskatoon. She has received instruction from George Glenn, Terry Billings, Graham Fowler, Allyson Glenn and Alison Norlen.
Her studies have led to observations of "practical life scenes" and of the use of painting and drawing materials to emphasize composition, colour and mark making.
Denise has participated in group exhibitions at the Red Door Gallery at the Bison Café, the John V. Hicks Gallery at the Prince Albert Arts Centre and the Grace Campbell Gallery at the John M. Cuelenaere Library also in Prince Albert.  In 2016, The Mann Art Gallery of Prince Albert purchased a painting for their permanent collection.
denise.flaman@flaman.com
Images:
Cory Chad, Balanced, 2018, Watersoluble pastel and India Ink on Terraskin, 9 3/4" x  13 1/2"
Denise Flaman, Move Through, 2018, Watersoluble pastel on paper, 4 5/8″ x 6"