August 27, 2018
ANNE BROCHU LAMBERT

IMPERMANENT / ÉPHÉMÈRE

AUGUST 27 – OCTOBER 26, 2018
RECEPTION: SUNDAY, SEPTEMBER 9   1-3pm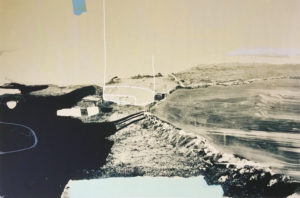 STM Gallery is pleased to present a selection of recent work by Regina artist Anne Brochu Lambert.  Anne will be in attendance for our opening reception on Sunday, September 9th from 1 – 3pm.  We hope you can join us.
Impermanent / Éphémère explores the fugitive aspects of our memories, our tendency to reconstruct and reinvent parts of an experience and the limited means we have to keep them intact overtime through various forms of documentation. Brochu Lambert incorporates found imagery, drawn from a cache of unidentified travel photographs. Many of these early photographs document various landmarks or historical monuments which are seemingly eternal but subject to transformation over time via natural elements and our interaction with them. Her subsequent transformation of these images ('accidental collaborations') questions the increasingly fluid boundaries of documentation and memory sorting in a digital age.
L'exposition Impermanent / Éphémère est un projet né d'une exploration des concepts de mémoire et de documentation ; cette pulsion quasi universelle à vouloir capturer des moments et lieux significatifs, d'une réflexion sur la surabondance de visuels qui est générée à cette ère technologique mais malgré tout confrontée aux limites des moyens mis à notre disposition pour préserver ces mêmes images. L'installation de la série évoque cette fragilité et la limite temporelle.
La découverte d'une riche collection de photographies de voyage, anonymes et abandonnées, réalisées en Irlande par un amateur de la Saskatchewan, a été le point de départ de cette recherche visuelle. La sélection d'images de monuments naturels ou de lieux construits par l'humain dans des temps anciens était clef pour évoquer la métamorphose imposée par le temps. Ce traditionnel motif paysagé, ces lieux personnellement vus et évocateurs d'émotions, était le prétexte idéal à transformation par le biais des supports, des techniques d'interventions mixtes, analogues et numériques. La série devient le témoignage d'une collaboration accidentelle entre deux sensibilités.
Anne Brochu Lambert, 2018
September 9th Interview with Radio-Canada:
https://ici.radio-canada.ca/tele/en-bref-ici-saskatchewan/site/segments/reportage/86337/anne-brochu-lambert?isAutoPlay=1
ANNE BROCHU LAMBERT
Biography
Anne Brochu Lambert's artistic practice encompasses a mixed media approach, with foundations in painting, printing processes and photography. It also includes periodic incursions into installation and performance work in other disciplines.
Raised in Lévis, PQ, she's calling Saskatchewan home since 1986. Her formal training in Fine Arts includes notably a D.E.C. from CEGEP Lévis-Lauzon, an Artist Residency in Montecastello di Vibio (Italy) in 2009, and currently a high profile mentoring project with curator-conceptual artist Serge Murphy, funded by the Canada Council for the Arts (May 2016-Aug 2018) and spear headed by the Conseil culturel fransaskois.
Brochu Lambert has participated in solo, collective and juried shows in Canada and in the State of Washington (USA) for the past 20 years. Most recently, she's shown her works at Galerie Luz in Montreal (April-July 2018), and at AKA Artist Run Centre in Saskatoon (Nov-Dec 2017). With gallery representation since 2009, her artworks can be found in both private and public collections, including the City of Regina.
For more information, please contact Linda Stark, Curator at 306.380.5310.
Gallery hours: Monday to Friday 7:30am – 10:30pm, Saturday 9:00am – 6:00pm, Sunday 11:00am – 9:00pm.
Images:
Silver VIII, Series Les Éphémères, 24 x 16
Silver I, Series Les Éphémères, 16×24
Silver II, Series Les Éphémères, 24×16
Silver XIX,  Series Les Éphémères, 24×16
Mixed media techniques on inkjet giclee from vintage anonymous photograph.