December 5, 2018
PAIGE MORTENSEN
PRAIRIE PERSPECTIVES
JANUARY 7 – FEBRUARY 22, 2019
OPENING RECEPTION: FRIDAY JANUARY 11, 7-9PM

Sitting in a vehicle, driving across the prairies we look out and see what remains of the elevators, homesteads, barns, and farm buildings built by early settlers and reminding us of the history of this land.
It was the texture of these old wooden buildings that drew me in because texture is central to my watercolour batik process. While it was the texture that got me exploring these old buildings it is my thoughts about the people connected to them that keeps my interest. These thoughts are of my ancestors who came to this country, to those who had lived here long before that and to how different things look depending on your perspective.
As I began to pay more attention to our prairie architecture, I had many thoughts about those early settlers. How they put their heart and soul into building new lives on the prairies. How they must have struggled to build those structures and create a new life in this prairie landscape. And how today, these same homesteads are deserted, the granaries sit empty and the elevators are rapidly disappearing.
I also think about the indigenous people who were here long before the settlers came. How their lives were completely changed when these new people came to this land. How different their perspectives may be when looking at these same buildings. It is my hope that this exhibition will remind us to be curious, remembering that there are many different perspectives of this prairie architecture.
Paige Mortensen, 2018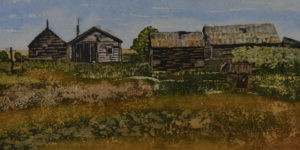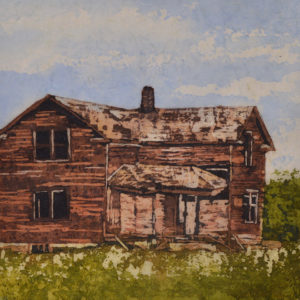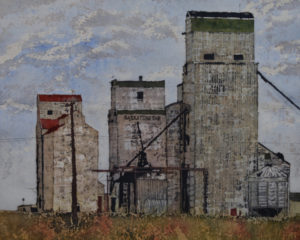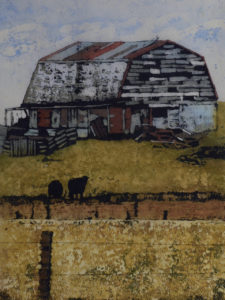 Featured works by Paige Mortensen (2018, watercolour batik):
'Going, Going, Gone', 24 x 36in
'Dotting the Prairie 3', 18 x 36in
'Homestead 1', 20 x 20in
'Repurposed', 24 x 30in
'Patched', 28 x 22in
For more information, please contact Linda Stark, Curator at 306.380.5310 or via lstark@stmcollege.ca .
Gallery hours: Monday to Friday 7:30am – 10:30pm, Saturday 9:00am – 6:00pm, Sunday 11:00am – 9:00pm.