February 18, 2019
BEYOND THE EDITION
JASMIN FOOKES and JACOB SEMKO
March 1 – April 26, 2019
Closing Reception: Friday, April 12 7-9pm
STM Gallery is pleased to present a selection of work by Saskatoon-based artists Jasmin Fookes and Jacob Semko.

First crossing paths while in the BFA program at the University of Saskatchewan, Jacob and Jasmin now find themselves working together in partnership through the CARFAC SK Mentorship Program.
Over the last 15 years Jacob has completed an MFA at the University of Cincinnati, traveled internationally visiting printmaking studios as a resident, an instructor, and a printer. He has been exposed to hundreds of techniques, countless processes, and worked with dozens of printmakers continually gaining new insight into state of the art techniques, especially in the new wave of "green" or non-toxic printmaking, which he incorporates into his practice. Creating in different studios has allowed Jacob to make work that pushes the limits of each print shop's capabilities regardless of how modest or grand the facility may be.
Jacob's diverse series of prints are a direct response to his geographical location with the work visually illustrating how the changing environment affects his inner psyche. He accomplishes this through narrative and metaphor often drawing from previous printmaking traditions, schools and movements. His artwork and professional practice are constantly evolving with new series informed from the previous and inspired by the future.
Jasmin's wanderlust also took her around the world where she participated in several diverse creative workshops. She lived in London for a few years fully immersed in a thriving art and printmaking community. While rooted in traditional print media practices Jasmin is drawn to the integration of unconventional materials and leveraging a hybrid of analogue and digital processes. She often incorporates hand embroidery and machine stitching and explores substrates other than paper, working on a series rather than an edition of identical prints. Her research explores nature as a representative of the spiritual realm, honouring the merely personal dimension of existence while moving towards the ineffable.
While the focus of this mentorship to date has been on Jasmin's specific goal of applying to MFA programs they look forward to the final few months of total creative freedom and exploration.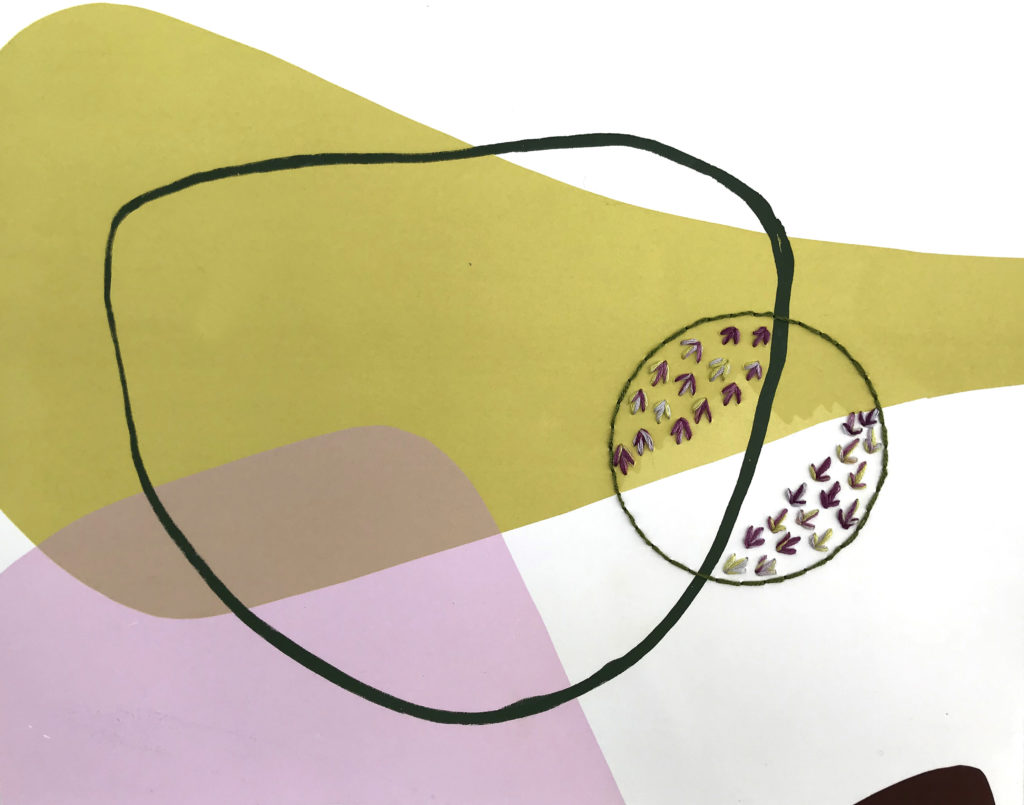 Jasmin Fookes
Deconstructed Bird Series 3, 2018
Silkscreen with embroidery on Somerset Satin, 11" x 14″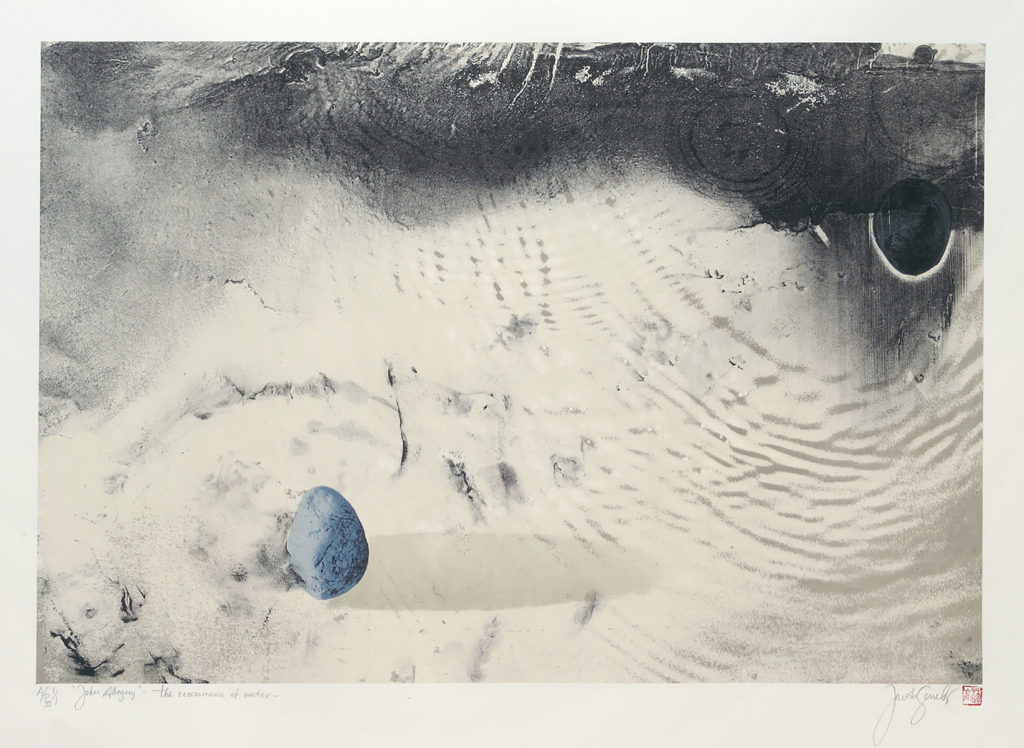 Jacob Semko
Johns Allegory – the reoccurrence of water
Waterless lithography printed on mulberry bleached, chine collé to somerset satin, 2008
26″ x 38″