October 9, 2019
Behind the Wire: Civilian Internment in the British Empire, 1914-1919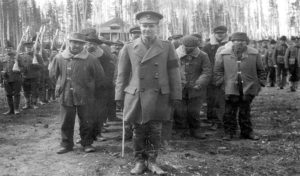 October 28 – December 15
Wine and Cheese reception: Tuesday, 5 November, 7:00 pm
Behind the Wire: Civilian Internment in the British Empire, 1914-1919 is a travelling display organized by Aston University (Birmingham, UK) and Edinburgh Napier University (Edinburgh, Scotland) in partnership with Archaeology Scotland and the Internment Research Centre, Hawick Museum (Hawick, Scotland). The exhibition is hosted by the Prairie Centre for the Study of Ukrainian Heritage (PCUH) in association with St. Thomas More Art Gallery.

The exhibit marks the centenary end of the Great War. It focuses on the global phenomenon of WWI civilian internment, but draws especially on the specific experience in the British empire from Britain to Australia, India to South Africa, and, of course, Canada. Using period photographs and referencing documents, differences and similarities are explained. Underlying the experience everywhere, however, was a policy that targeted immigrant minorities under the pretext of security, an issue that continues to have relevance today.
The guest speaker at our November 5th, 7:00 pm reception is Prof. Stefan Manz, Professor of German and Global History and Head of Languages and Translation Studies, Aston University. He is the author of Constructing a German Diaspora: The "Greater German Empire," 1871-1914 (2014) and more recently co-editor of Internment during the First World War: A Mass Global Phenomenon (2019).

St. Thomas More Gallery wishes to thank Dr. Bohdan Kordan, Professor in the Department of Political Studies at STM and founding Director of the PCUH (1998-2004) for organizing this exhibition.