Your help won't be forgotten!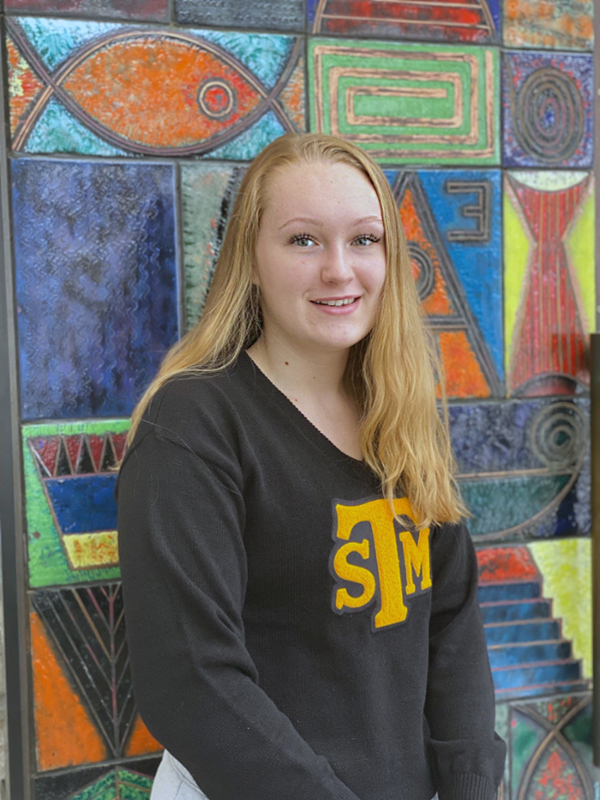 My name is Alayna Jones, a proud member of the St. Thomas More College community.
I am currently a third-year student studying Physiology and Pharmacology, hoping to go on to study medicine.
As a student who began her university studies during the COVID-19 pandemic, my first year was quite lonely.
Being isolated, like many others, I didn't get the chance to interact with other students and start making connections, so I adapted and would look on social media for any events or virtual meetings happening for the chance to interact.
One day, I noticed a post regarding a STM study retreat. Even though I was nervous, I signed up and attended the retreat where I had the privilege to meet some of the members of Campus Ministry and started making connections with other STM students.
I was the only first-year student there, and everyone else knew each other, but I really enjoyed myself.
A few weeks later I received an e-mail from Campus Minister Michael MacLean who asked me if I would like to be a part of some STM student groups. I jumped at the chance and became part of the STM family.
I love STM because everyone is so welcoming, so caring and so supportive.
It is so wonderful that even though we are on a huge campus of 30,000 students, STM feels like home. The staff, faculty, and members of the STM community treat individuals as their unique self, and students are cherished and cared for.
During my university journey, I have been fortunate enough to be awarded three STM scholarships. It meant that I didn't have to worry as much about the financial burdens associated with studying and have been able to focus on my classes and extracurriculars.
As a beneficiary of STM scholarships, I know how impactful they are.
I became involved in the Newman Centre, the St. Thomas More Students' Union and the Peer Health Mentors. Scholarships and bursaries helped make this happen for me.
I am sending this letter to ask, during this Christmas season, that you give generously to create opportunities like these for other worthy STM students. Please consider making a special Christmas gift today to help fund STM student awards.
I invite you to look back at your own connection to STM and recall all the memories and joy you have had while being either a student or supporter.
By donating to STM scholarships and bursaries you can help students reach their full potential.
And every donation, no matter the size, helps make an impact on the student's life, so please consider supporting STM scholarships and bursaries.

With sincere gratitude,

Alayna Jones
STM student
Make your caring gift today.
We have three easy ways you can donate to student awards at STM
Donate online! (Chosse STM Scholarships and Bursaries in the dropdown menu)


Call Kari Sinkewicz! Our Manager of Development & Alumni Relations will happily assist you. 306-262-6818. 


Mail! If you prefer to send a cheque in the mail, please make it payable to St. Thomas More College and put Scholarships and Bursaries in the memo.

Development Office
St. Thomas More College
1437 College Drive
Saskatoon, SK  S7N 0W6