Your help won't be forgotten!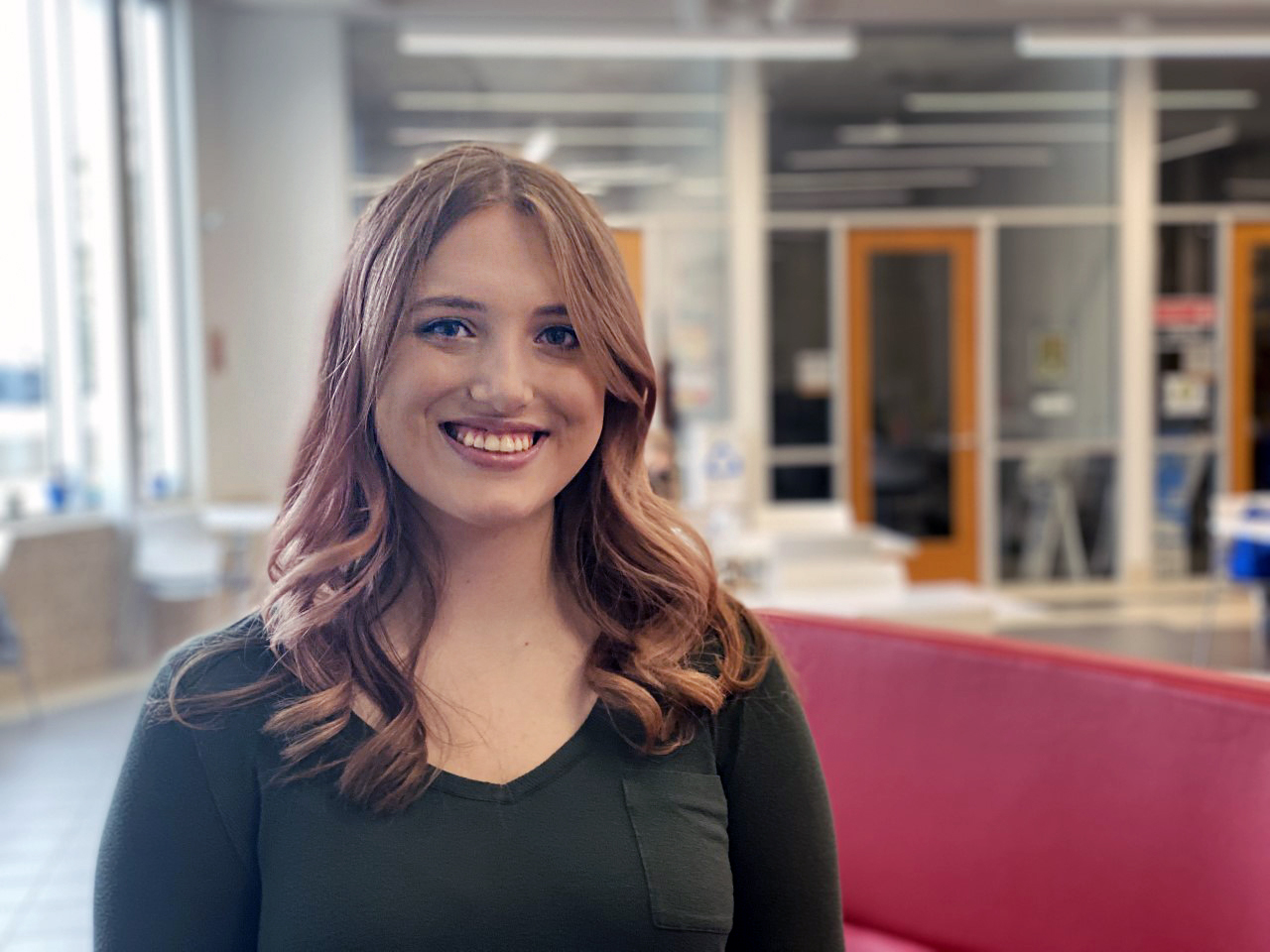 My name is Abbi Cross and I am a Psychology major currently in my fourth year of university
and a very proud STM student.
Coming from a school where every face was familiar, to a large campus with thousands of students that I did not know was daunting to say the least. Luckily, I was quickly taken under the wings of three upper-year students on the St. Thomas More Students' Union (STMSU). They helped me navigate the beginning of my adventure as a new student and helped open the door to the gift that is the STM community. I've been fortunate to meet and build relationships with other members of the college's community as well, including some very talented faculty and staff.
Through the creation of these relationships, I have been presented with amazing opportunities, discovered new passions, and been encouraged to follow my dreams.
Interactions with the passionate and talented professors within STM's Psychology Department made me realize how deep my love of psychology goes. I had never considered pursuing a career in the field before my time at STM, but now I can't imagine doing anything else with my life.
It's my hope that one day I will get the opportunity to teach and share my passion with future STM students. Donors like you can help make this possible.
Through my time volunteering with the STM Students' Union, I have been blessed to meet countless members of the STM community. Hands down my favourite interactions are those with past students. Hearing your stories of what the college was like when you walked these halls and of the adventures you had during your time at STM is powerful.

This college is far more than just an educational institution. It's a place that lets people find themselves and explore their passions in the company of some of the most kind and caring people in the world. For many, myself included, STM has become a home away from home.
As a previous beneficiary of some of STM's scholarships and bursaries, I know just how life-changing they can be. I was raised by a single mother who allowed me to grow up in a house full of love, and who supported my every dream, especially my desire to one day be the first in my family to graduate from university. While I've never been short of love, and my mom did her absolute best to set aside any money she could for my education, the reality is that my education will cost far more than was saved.
Not wanting to have my dreams dashed or delayed due to financial restraints, I've worked hard in school to ensure a competitive GPA for scholarships as well as working part-time on the side to save for tuition. By being chosen as the recipient of various STM scholarships and bursaries I've been able to worry less and focus more on my studies and making memories; Memories I one day hope to share with future STM scholarship and bursary winners.
Please consider making a special Christmas gift today to help fund STM student awards.
As we near the end of another year, I invite you to reflect on your time at STM, whether that was as a student, faculty or staff member. Remember the people you met who inspired you through their lectures, the times you spent in the cafeteria enjoying your second, third, or even fourth cup of coffee as you studied for your upcoming exam, the mornings where the Saskatchewan winters chilled you to the bone and you wished you had stayed in bed.
Remember all the good times, and the not so good times, and think to yourself how different your life would be had you not been at STM.
Every donation, no matter the size, makes a big difference in a student's life. Though you may not personally know the student receiving your gift I can assure you that our students are grateful for the helping hand.
This holiday season, please consider giving a student the opportunity to join the growing group of proud and accomplished STM graduates.
With sincere gratitude,
Abbi Cross
STM student
Make your caring gift today.
We have three easy ways you can donate to student awards at STM
Donate online! (Chosse STM Scholarships and Bursaries in the dropdown menu)


Call Kari Sinkewicz! Our Manager of Development & Alumni Relations will happily assist you. 306-262-6818. 


Mail! If you prefer to send a cheque in the mail, please make it payable to St. Thomas More College and put Scholarships and Bursaries in the memo.

Development Office
St. Thomas More College
1437 College Drive
Saskatoon, SK  S7N 0W6