Your gift means so much!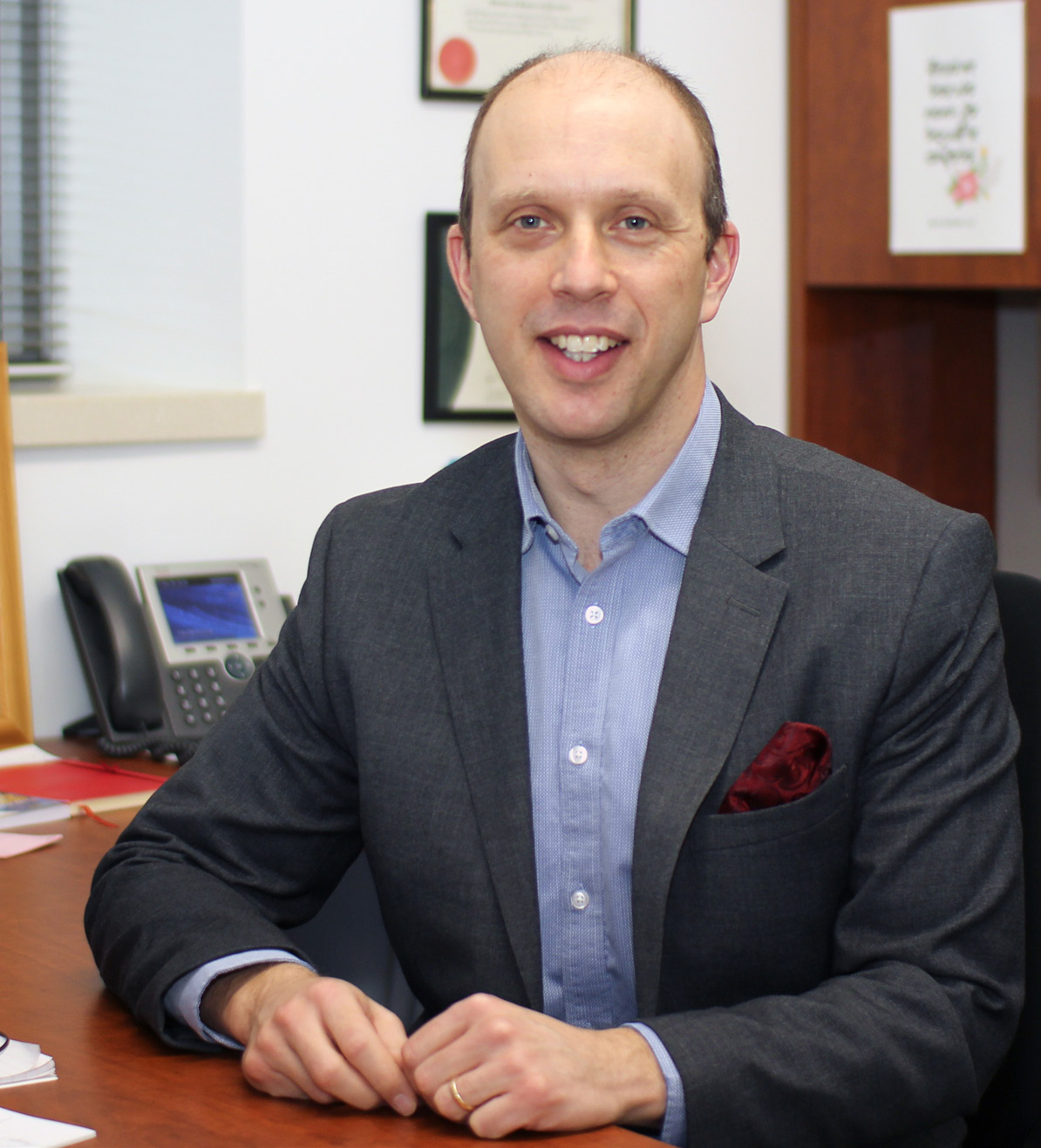 Dear Friends,
I have a reputation for being a direct communicator, so out of respect for your time, I will get right to the point: Will you help me carry on the tradition of forming young minds and hearts at St. Thomas More College? This is the legacy of the Basilian Fathers, and it is our ongoing mission.
I have many roles related to STM. I wrote my last undergraduate exams here some 20 years ago. Next year I will become the proud parent of a STM student. I am also a monthly donor to the College. Most days, however, you can find me happily toiling away in the in the Student Services Office as the Manager of Student Experience and Enrolment.
One of the great privileges of working with students at STM is to continue the pastoral care that I received here in the 1990s and that I know, from alumni stories, was present in the decades before that. I love being able to see a student's potential before they can see it in themselves, and to watch them grow toward the fullness of their humanity.
One of the great challenges of my work is supporting students who do not know how they can continue. It may be health concerns, or disappointing academic results, or all too often, financial challenges. It is awful to see a young person's potential go unfulfilled because they cannot afford the privilege of an education at STM.
For many of us, the Christmas season is a time for rejoicing and gratitude. Even in the midst of the pandemic restrictions I have so much for which I am thankful.
For some students, however, this Christmas season just emphasizes the stresses and struggles of being a student in 2020. For some students, a gentle reminder that someone cares about them is all they need.
Your gift can be the difference for a student. The difference between continuing their journey at STM or leaving school to make ends meet.
Here is a letter from a student I advised this year. His hopes for post-secondary education and a better life were aided by the donors who support STM.
To all the donors, patrons, and staff at St. Thomas More College,

It is not an easy decision to give a stranger money.

When you make that commitment, you choose to put your own hard work, sacrifice and, most importantly, faith in someone you deem fit for the award. I am honoured that this time, that person is me.

I never imagined that I would be the chosen for this financial award. However, if there is one thing that my parents have taught me, it is to grab onto every opportunity I can get hold of and work the hardest possible.

For me, this bursary has been that life-changing opportunity. By putting your faith into me, you have allowed me to grow more confident of myself and my experiences and appreciate the kindness of others.

The best way I can show my gratitude for your kindness, is to pay it forward. In the coming years at USask, I pledge to be of service to my peers and faculty in every way I can. I commit myself to be an active member of the community and assure you that I will maintain a great GPA.

Four years from now, I will be writing another letter to you. A letter of gratitude, to tell you about all the knowledge I have been able to amass with the education I have received by your grace. In that letter, I will tell you about all the previously shut doors that have now opened for me because of your kindness. Lastly, I will tell you about all the people I have been able to help, because you chose to help me.

Thank you!
I hope that you will help me carry on the tradition of forming young minds and hearts at St. Thomas More College. Please consider making a gift to support STM scholarships and bursaries today.
God bless,
Richard Medernach
Manager of Student Experience and Enrolment, St. Thomas More College
Make your caring gift today.
We have three easy ways you can donate to student awards at STM
Donate online! (Chosse STM Scholarships and Bursaries in the dropdown menu)


Call Kari Sinkewicz! Our Manager of Development & Alumni Relations will happily assist you. 306-262-6818. 


Mail! If you prefer to send a cheque in the mail, please make it payable to St. Thomas More College and put Scholarships and Bursaries in the memo.

Development Office
St. Thomas More College
1437 College Drive
Saskatoon, SK  S7N 0W6