Serving the STM alumni community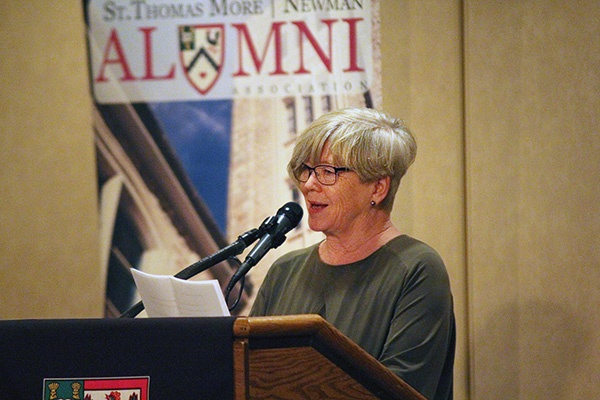 Mission
The St. Thomas More-Newman Alumni Association is committed to building a strong social, intellectual, and spiritual community of STM and Newman alumni by encouraging their lifelong involvement with the College and with each other.  Through its support of the College and its mission, the Association strives to enrich the lives of its alumni and friends everywhere. 

 

Goals
   To nurture relationships with current and future alumni and engage them in the life of the College
   To coordinate and promote programs and events that instill good will and pride, and provide opportunities for professional growth and social interaction
   To promote and enhance effective communications between the College and its alumni 
   To ensure the quality of our future alumni by continuing to assist the College in identifying and recruiting future students 
   To encourage financial support of the institution
2016-2017 Alumni Association Board :
President                   Sylvia Regnier (BA '70) 
Vice President            Vacant 
Past President            Vacant
Treasurer                   Vacant
Chaplain                    Fr. Ron Griffin
Member at Large        Art Battiste (BA '63)
Member at Large        Angeline Battiste (BA '66)
Member at Large        Kathie Jeffrey
Member at Large        Michael MacLean (BA '93) (BED '96) (MRE '13)
Member at Large        Madeline Oliver (BA '94)
Member at Large        Constance Woloschuk (BED '89)
Member at Large        Gertrude Rompré ('91)
---
Join the STM-Newman Alumni Association Board!  
The STM-Newman Alumni Association Board is looking for new members. 

The association board of directors is an active and committed group of volunteers who work to support and develop programs and events that benefit alumni and the College. 

We need your help.  Join us and reconnect with fellow alumni, make new acquaintances and help to make a real difference in the lives of STM alumni and students.  

For more information on how you can become involved with YOUR Alumni Association, contact:
Karen Massett, Director of Development
306.966.8918 
kmassett@stmcollege.ca
or
Kari Sinkewicz, Development Assistant
306.966.6771
ksinkewicz@stmcollege.ca
Alumni card
St. Thomas More College has joined together with The University of Saskatchewan to offer you a Co-Branded Alumni Card.
The new STM/U of S alumni card can now be used as your PAC Membership card, your U of S Library card and proof of membership for other benefits and services 
 (all new cards have a magnetic strip at the back of the card)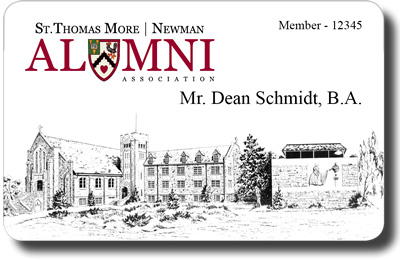 Your STMNAA alumni card is free, and membership is automatic once you graduate. 
Co-Branded alumni cards are available to all St. Thomas More College/University of Saskatchewan graduates. Please contact us to apply for your STMNAA alumni card today!

Your STMNAA alumni card will also give you the following benefits:
*Discount ticket price for Newman Players Productions
We are in the process of establishing more affinity relationships with organizations and businesses in our community to offer our STMNAA members the opportunity to grow socially, mentally, and spiritually. If you know of an organization or business who would be interested in being an affinity partner with STM, please have them contact us.
Please note:
If you are not an STM graduate, but a Newman Centre member, you can apply for a non-magnetic strip card (benefits are limited) by sending an email for request to:
Karen Massett, Director of Development kmassett@stmcollege.ca
Kari Sinkewicz, Development Assistant ksinkewicz@stmcollege.ca