Serving the STM alumni community
Staying connected during the pandemic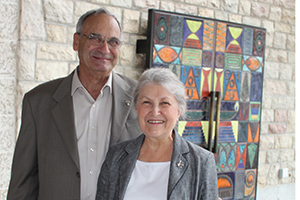 A message from your STMNAA president
Dear Alumni of St. Thomas More College and Newman Club, 
I hope that this brief note finds all of you safe and well. It seems as though it was only yesterday that there was more to do, never enough time to do it in, and now there is very little to do and so very much more time. 
My wife and I have been in self-isolation as a matter of choice since March 5th. Thankfully, I am self-isolated with my best friend...Angeline. And, now that the weather is cooperating, we get out for walks, being careful to maintain an appropriate distance from those whom we encounter, and our work on our lawn and gardens has begun in earnest. Also, we keep in touch with family, friends, and neighbours online, attend Sunday Mass online, and participate in ZOOM games and get-togethers with our children and grandchildren in Saskatoon, Edmonton, and Edinburgh. Staying connected has kept us feeling grateful and full of hope. 
Although the isolation has not so much changed what we had to do, it certainly changed how we do almost everything. Angeline volunteers as a literacy teacher with immigrants at Global Gathering Place, and she has had to adapt to an online teaching system, which she has done quickly and very well. I am in awe! My life has been somewhat more complicated. I manage a program for Saskatoon Seniors Continued Learning. of non-credit university courses for seniors at the University of Saskatchewan. The eight courses organized and contracted for the March to May Spring Term had to be cancelled, almost literally overnight: 8 faculty and almost 400 students and re-scheduled to the September to November Fall Term. The organization decided to not offer online teaching, so, subsequently, the Fall Term courses have been cancelled as well. I now am working on an online Lecture Series for the President of the University for the Fall Term. This work usually has been done with a combination of online, telephone, and face-to-face meetings with the organization, classroom space managers, website managers, teaching staff, and administrative managers; now, of course, it's all online. 
Yesterday, our elder son dropped in to say hello; without thinking, my wife crossed the magic 2-meter barrier and gave him a big hug. After, she was crying. She told me that the one thing she misses more than anything else is the ability to make physical contact with family…in addition to me. There's only so much that can be done on a computer screen. 
With all the things that we have to do, we make sure to make time to reach out to family and friends, regardless of where they are. They're all affected by the COVID-19 rules, and some may even have contracted the virus. It's surprising how many in our own neighborhood are not only isolated, but lonely and even alone. 
What we and the rest of the world are going through is not a good thing, but good things can come of it.  I have been asked what advice I would give to others: 
Firstly, keep safe and stay well. You, and whoever else might be in your "bubble" (don't laugh; that's the official name for the person or persons who are in isolation or quarantine in one location) must take care of yourself or yourselves: that's job #1! 
Secondly, reach out to others you are related to or whom you know, and do so frequently. Letting others know that you're OK and that you're thinking of them and wishing them well is so important to everyone's well-being.  This activity can be the most important thing you do, and you'll find that it is as rewarding for you as it is for them. 
Thirdly, stay spiritually connected. This connection is as important as any other.  When your personal skies grow dim or dark, or when you need someone to turn to.  That's the time to connect with God, Christ, Allah, Jehovah, or with whomever or whatever is for you a spiritual guide or model.  I guarantee that you'll be helped or comforted from within. 
I'd love to hear your stories about how this is impacting you, your family and your community. Maybe you'd like to share what wisdom you have learned or what you are feeling most grateful for. If you need to find an online shoulder to lean on or to cry on, I'm here, at battiste@sasktel.net.  As your Alumni Association president, I am here for you, to reach out to, to help keep your spirits up, or to share an online coffee (or other libation) with. 
God bless you all, 
Art Battiste 
President, STM Newman Alumni Association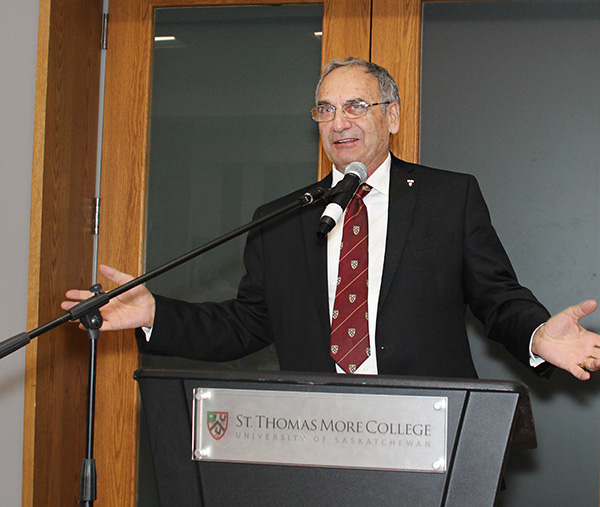 Mission
The St. Thomas More-Newman Alumni Association (STMNAA) is committed to building a strong social, intellectual, and spiritual community of STM and Newman Alumni by encouraging their lifelong involvement with the College and with each other.  

Goals
To nurture relationships with current and future alumni and engage them in the life of the College
To promote and enhance effective communications between the College and its alumni 
To coordinate and promote programs and events that instill good will and pride, and provide opportunities for professional growth and social interaction
To encourage financial support of the College and the students who attend STM
STM Newman Alumni Association Committee:
Art Battiste - President
Angeline Battiste
Corinne Baumann
Madeleine Blais-Dahlem
Sylvia Regnier
Dean Schmidt
 And many valued members at large
---
You are invited join the STMNAA committee today!
The STMNAA committee welcomes other alumni to join this active group of volunteers who work to support and develop creative initiatives that benefit alumni and the College.
This dedicated group of alumni is committed to building a strong social, intellectual, and spiritual community of STM and Newman Alumni by encouraging their lifelong involvement with the College and with each other.   
Join today and reconnect with fellow alumni, make new friends and help make a real difference in the lives of STM alumni and students. 
For more information on how you can become involved with YOUR alma mater, contact: