The STM College community wishes to honour and remember our cherished, departed alumni and friends
---
Henry Kloppenburg, OC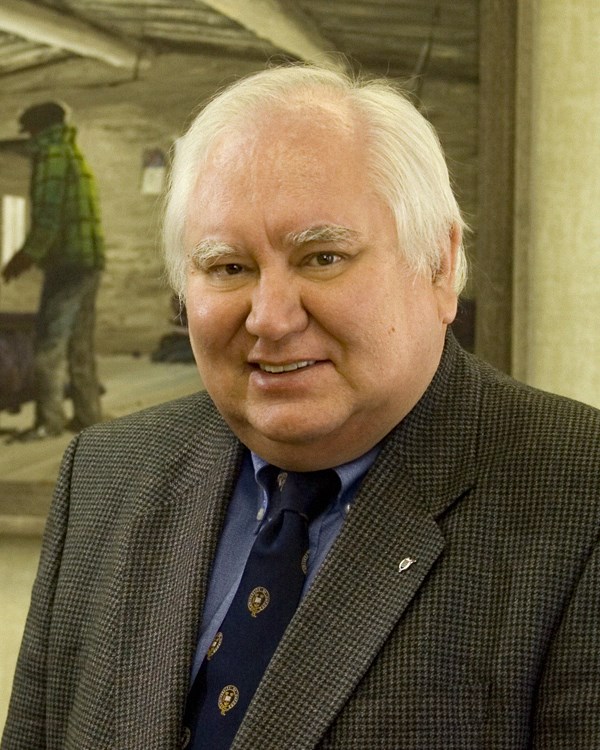 Henry Kloppenburg, 1945-2022, keenly valued a good education and was a long-time friend and generous supporter of St. Thomas More College (STM). He was recognized with the STM Distinguished Alumnus Award in 2003 for his significant lifetime accomplishments and continued relationship with the College. The College community was very proud of Kloppenburg's many distinguished achievements including his recognition with The Order of Canada for which some of his leadership roles and community contributions were highlighted as follows:
Henry Kloppenburg's generosity reflects his passion for his community. A lawyer by profession, he is a collector of Canadian and Native art, much of which he has donated for public display. From scholarships and art donations to the establishment of the Kloppenburg Wildlife Refuge, his contributions have enriched the educational and cultural landscape of his province. He has also provided leadership to many organizations, including the University of Saskatchewan's Biomedical Ethics Committee, the Kidney Foundation of Canada (Saskatchewan), the Mendel Art Gallery and the Saskatoon Symphony Orchestra. (Mr. Henry Kloppenburg | The Governor General of Canada (gg.ca)
At STM, however, Henry will be most remembered for his gregarious presence at College events, his participation on STM Corporation, and, as a result of his participation on the STM 75th Anniversary Planning Committee, designing what has become affectionately known as the Kloppenburg tie.
A Mass of Christian Burial was Celebrated at St Paul's Co-Cathedral Saskatoon, Saskatchewan, on Wednesday, October 19, 2022. Condolences may be left for the family at www.saskatoonfuneralhome.com
https://thestarphoenix.remembering.ca/obituary/henry-kloppenburg-1086479396
Desirée Hutton (née Steele)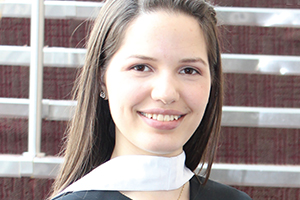 The STM community mourns the loss of alumna Desirée Hutton to cancer, August 24, 2022.
While her life journey was much too short, Desirée proved a bright light who maximized any opportunity to experience life and serve others, with impact and inspiration for all those blessed to interact with her. The St. Thomas More College (STM) community is grateful that Desirée's journey included time with us.
Desirée was a proud alumna of STM (BA '15). She valued the many opportunities that the College offered to engage with the world through relationship, service, and faith, as well as academic study.
During her time on campus, Desirée spent three years on the executive of the STM Students' Union (STMSU), serving as president, and additionally as student representative on the STM Board of Governors during 2012-13.
A graduate of Holy Cross High School, she was the recipient of the Les and Irene Dubé Service and Justice Award as well as a Greystone scholarship. Her participation in STM's experiential learning Service and Justice Program proved to be an important aspect of her university learning and personal development. She also volunteered with L'Arche in Antigonish, NS through the Intercordia program, was a student employee of the Shannon library, and was often seen performing at STM coffee houses.
In 2015 Desirée earned a B.A. with High Honours in Political Studies with a minor in Social Justice and the Common Good through STM. In 2018 she added a J.D. with Distinction from the College of Law, USask. Desirée worked for nearly two years as a Crown Prosecutor in Regina.
Desirée remained connected to the College and in 2018 became a member-at-large for STM Corporation. She was presently in her second term, serving as chair of the Bylaw Committee.
STM Campus Ministry set up a shared file for memories of Desirée – some of these are relayed below. Please contact cwoloschuk@stmcollege.ca if you wish to contribute.
"If there is an ideal STM student, it must be Desirée. She connected deeply with our student union and with our programs that speak to the Catholic vision for a just society. As a person she was bright, energetic, and witty. Every conversation with her left you feeling uplifted. Desirée will never be forgotten by those of us who knew her, and she will remain an inspiration for us at STM."  Carl Still, President, St. Thomas More College
"In her own insight and leadership, both at STM and beyond, Desirée was an embodiment of the Catholic Intellectual tradition at its best!"– Gertrude Rompré, Director of Mission and Ministry 
"Desirée represented STM at the Canadian Catholic Students Association conference. The light of Desirée's faith always shone brightly to inspire students, staff, and faculty alike.   She was a kind and generous soul, and we are all better for knowing her." - Michael MacLean, STM Campus Minister
"Desirée never failed to pose insightful questions that made apparent her wisdom and benefited the entire learning community. She has taught me, and I know many others, a great deal about Catholic traditions and principles connected to social justice and the common good." Chris Hrynkow, Professor, Department of Religion and Culture and Co-Director Irene and Doug Schmeiser Centre for Faith, Reason, Peace, and Justice.
StarPhoenix Obituary published Aug. 27, 2022
---
Patricia Marikay Falby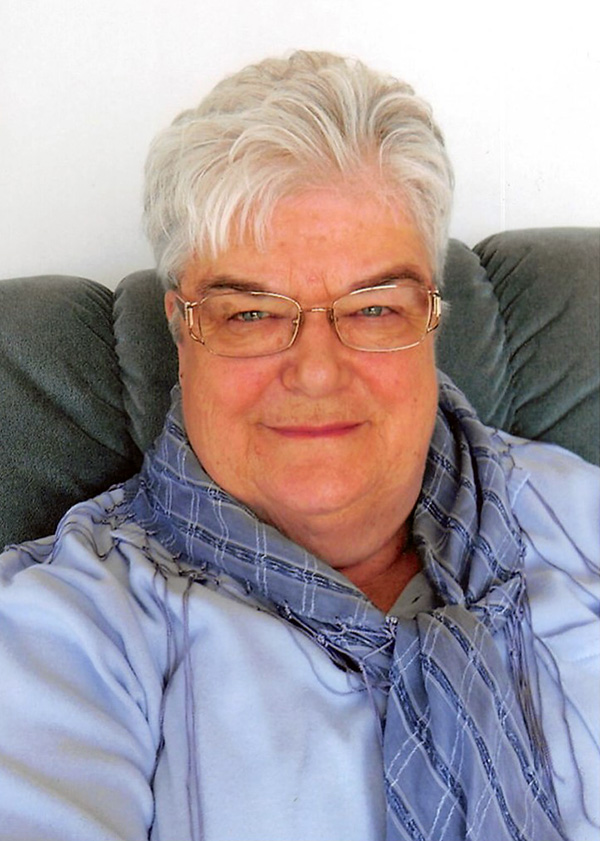 Marikay Falby, was received into God's loving embrace on Monday morning, June 20, 2022 at the age of 83.
Daughter of Merle and Helen Falby, Marikay was born in Saskatoon on December 10, 1938.  After attending Sion Academy for 12 years, she pursued university studies while working full-time in the Murray Memorial Library. She also worked as a cub reporter for the Saskatoon StarPhoenix where her father had been employed. She was instrumental in setting up the new STM library and in amalgamating the libraries of St. Paul's High School and Sion Academy into the new E.D. Feehan library. At the age of 23, she joined the Catholic Church in which she was very active throughout her life. 
Employed by the Saskatoon Catholic School Board, she served many generations of students as librarian at E.D.Feehan and Holy Cross High Schools, always with a compassionate heart for the troubled and disadvantaged students. For many years she directed a choral group known as "The Sands of Time." After being granted a year's leave for setting up a communications network for the Oblates of Northern Saskatchewan and Keewatin, she returned to the Catholic Division where she worked in public relations. For many years, she also served as the Diocesan editor for the Prairie Messenger, worked as a reporter for the StarPhoenix, wrote articles for library journals and published works of fiction.
Marikay was involved with various organizations. Outgoing in nature, she exuded energy, joy and enthusiasm. She served as lector and choir member in St. Paul's Parish, served on the boards of Friendship Inn, Light of the Prairies and L'Arche and was an active member of the Sion Alumnae Association.   Drawn by Benedictine spirituality with its emphasis on hospitality, scholarship and liturgy of the hours, she became an Oblate of St. Benedict and faithfully took part in "Oblate Days" at Muenster.  A longtime member of SSCL (Saskatoon Seniors Continued Learning) she served as the president for a term.  In recognition of her many accomplishments, St. Thomas More College honored her as a Distinguished Alumna in 1993. 
Marikay loved life and liked to travel.  Cherishing deeply her Irish heritage, she especially enjoyed her visits to Ireland.  She also travelled by ship, bus and train to Alaska for a grand adventure. An avid photographer, she took fabulous photos and had quite an impressive collection. Marikay was the instigator and director of a lively singing group called "The Meri Misfits" that went to many senior residences to sing about aging and learning to prevent falls.
Marikay's many friends were included in outings to the theatre: Persephone, Barn Playhouse, Summer Players, and others. She was a spiritual seeker and appreciated exploring spiritual matters. One special group of seven women who called themselves "Women who run with the wolves" was especially dear to her. Her wolf name was "Shaking with Laughter". May the heavens ring with that sound!  Leader of her "pack", she was there for them and they were there for her. In Jackie's words "this is the circle of life".
---
Kenneth W. MacKay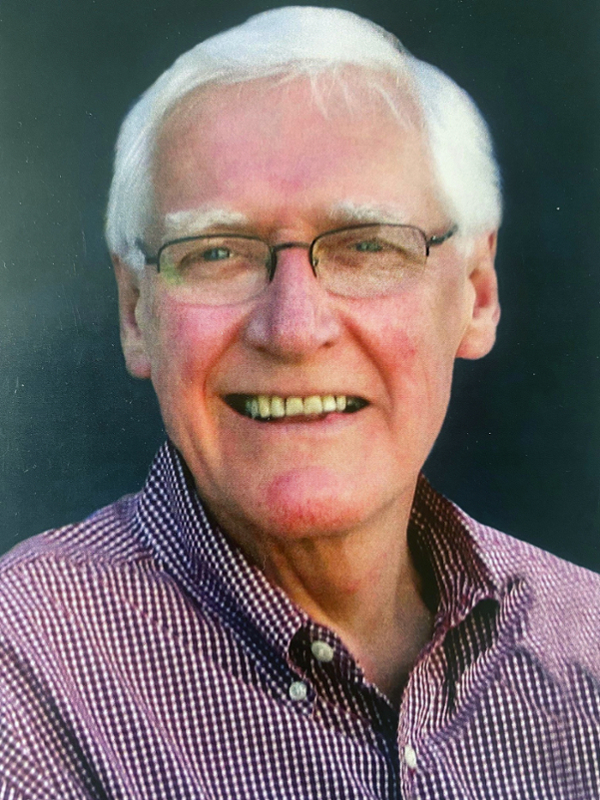 Submitted by Patricia MacKay

Ken was born in Regina into the staunch United Church family of William and Edith MacKay. He was raised and started his schooling in Moosomin.

At the suggestion of a family friend he was sent as a boarder to Campion Catholic High School in Regina for his secondary schooling. He was won over by the studies and social life of a boarding school and became curious about the Catholic Church. After high school he enrolled at the University of Saskatchewan through St Andrews Theological College with thoughts of becoming a United Church minister but was also an occasional visitor to STM down the street.

Fr. Joseph O'Donnell's Shakespeare class was well known throughout the campus and Ken took the class in his second year, then tried out for a part in the Newman drama production of Romeo and Juliet. He was Romeo! In later years he appeared in other Fr. O'Donnell-directed productions – MacBeth, Hamlet, A Man for All Seasons. STM/Newman Club was a friendly community with perks such as lunches at the student-run cafeteria, Ulcers Inc., Sunday night socials, debates and discussions in the old music room, joining the Newman Glee Club directed by Fr. Finn.

As at Campion he was drawn to the chapel – the liturgy, the ceremony and the faith. Eventually he began instruction and was received into the Church in the spring of 1960. The college also brought romantic interest in a young student, Patricia MacKay. They fell in love and married after graduation.

After a short time teaching high school back in Regina, Ken longed for something more dramatic and in 1964 he entered the College of Law. Upon graduating he articled and spent a year in private practice before joining the Saskatchewan Department of Justice as a prosecutor; the prospect of more time in court was enticing given his teaching career and his passion for acting and theatre.

He did not see prosecuting as a "prove the accused guilty at all costs" endeavour but as an honest search for justice for all. Over his career he appeared frequently before the Supreme Court of Canada and worked on several national boards involving the reform of the criminal law. He was a Bencher of the Law Society for six years and served on the Saskatchewan Review Board from 2002 until 2020. He was a bright legal mind who tackled his cases with reason, fairness, and intelligence.
The year and a half Ken spent in London earning his Master of Laws Degree from the London School of Economics, he and Pat travelled throughout the UK and Europe and went to every play and concert their money and time would allow. Ken was active in Regina Little Theatre and Regina Summer Stage, a frequent traveller to Stratford and Niagara on-the-Lake for theatre holidays, and attended the Regina Symphony and many other concert series. Sports were not Ken's forte but he joined the Regina Rowing Club and formed a crew with three friends. He grumbled as he left the house summer mornings at 5:00 am. to tackle the waters of Wascana Lake but always returned pronouncing rowing the best sport in the world. After answering a newspaper ad for a "singing holiday" Ken and Pat became involved with Oxford Church Music and sang with the group several times in Oxford, Dublin, Berlin, Prague, Rome and Venice. He sang in Holy Rosary Cathedral Choir for nearly 50 years and was frequently the Cantor at masses and special services. He was the acknowledged founder of the "Ken MacKay School of Canting"- no matter what errors you make, don't stop, just carry on and try to finish on the right note.
Ken was predeceased by his parents, William (Mickey) and Edith MacKay and his parents-in-law Vincent and Emelda Connor. He is survived by his loving wife of nearly 60 years, Pat, his brother Donald (Connie and children Twylla, Sheila, and Tyler), Pat's brother, Gerry (Beth) Connor and sister, Margaret (Richard) Johnson. Though they had no children of their own, Ken was a special uncle and friend to his nephews and nieces Quetzal, Jesse, Anahi, and Claire Johnson and to "adopted" nieces and nephew Odette, Christina, and Patrick McCarthy. He valued and loved you all.

Ken and Pat had nearly 60 years of love, humour, occasional disputes, travel, adventures, and friends during their life together- still not long enough. He died peacefully in Regina after spending a month at home with all who loved him dearly.
---
Joe Campbell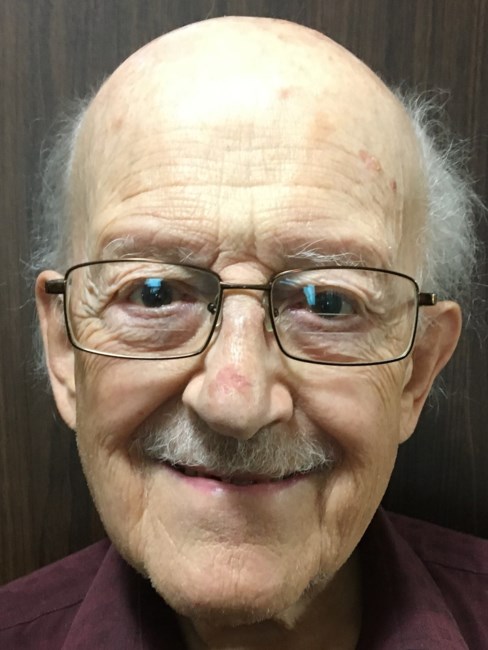 My wife Marion and I first got to know Joe and his wife Rosemary when we joined St. Joseph's Parish in Saskatoon. 
They were a faith-filled couple dedicated to raising a Christian family. Joe himself was a quiet soft-spoken person, not only with a sense of humor but especially with a deep Catholic faith and conviction that must have been nourished by his years as a student studying philosophy at St. Thomas More College.
Although he was at STM before I was there as a student, I know that his Basilian Professors must have had a deep impression on Joe just from the witness of his faith-filled life and his acute intellectual ability.
Joe exemplified the purpose of Catholic Higher Education: the flowering of a Catholic intellectual able to communicate and articulate oneself on social issues. Joe did so especially in his many written letters and articles embracing the cause of the unborn and to live his Catholic faith while working in a secular environment.  
His respect for the natural world was evidenced by his not driving a car but always walking. That likely contributed to a long life, one day short of being 93 years old. His sense of humor was always accompanied by a sparkle in his eyes.
His joy of life was shared by his love of Jazz music that he enjoyed sharing for over many years with the Bridge City Dixieland Band. By sharing his gifts and his service to his Church, to his workplaces and to the community at large, truly, Joe was a "Person for all Seasons!"
Jim Penna, Ph.D. Retired
February 28, 22
See the Obituary printed in the StarPhoenix HERE
---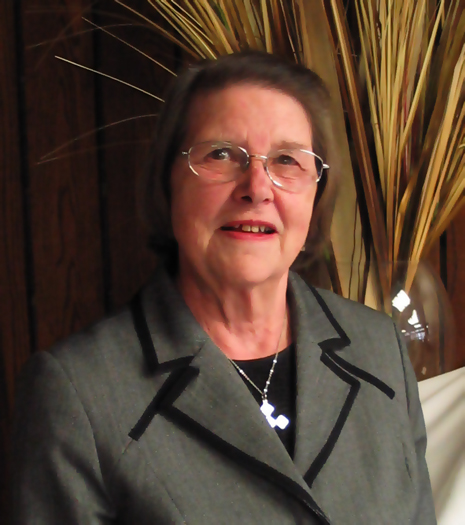 Dr. Lois Brockman
The St. Thomas More College (STM) community honours the memory of Dr. Lois Brockman who passed away August 26, 2021 at the age of 89.
An excerpt from her obituary recounts, "Her academic excellence, evident from a young age, combined with a passion to serve the welfare of the underprivileged, led her to STM at the University of Saskatchewan where she earned a BA in Social Sciences. She truly enjoyed her time at STM with fond memories of friends and activities at Newman Centre."
More than 30 years ago, in honor and memory of her parents, Brockman established an endowment fund to enable annual
STM student scholarships for study in the area of child development, psychology and philosophy, with the purpose of supporting and enhancing respect for the developing child.
Brockman also donated generously towards the establishment of an Endowed Professorship in Child Development at STM.
The Endowed Professorship supports a scholar whose research and teaching are in the area of Child Development. The Professorship is to be a source of intellectual leadership for STM and for the broader Catholic and local communities, and for the Catholic and secular media through commentary and expertise on Child Development.
President Dr. Carl Still had recently expressed his appreciation for Brockman's support of the College and work towards the Psychology professorship.
"STM is so grateful for your outstanding faithful support, which helps to ensure that our commitment to the Catholic intellectual life, social justice, and the pastoral care of students remains a tradition at St. Thomas More College," said Dr. Still. "In the area of psychology, we look forward to a future when STM will be known across the University of Saskatchewan campus for its expertise in child psychology because of the Professorship you are creating."
In 2004, Brockman's many outstanding accomplishments in her professional and personal life, proved an inspiration to fellow alumni, current students and the community, and as such she was recognized with the St. Thomas More College Distinguished Alumna Award.
Dr. Lois Brockman will be missed. She was an inspiring STM Alumna, friend of the College, and generous philanthropist recognizing needs in higher education and expanding
scholarship with respect for childhood development.
---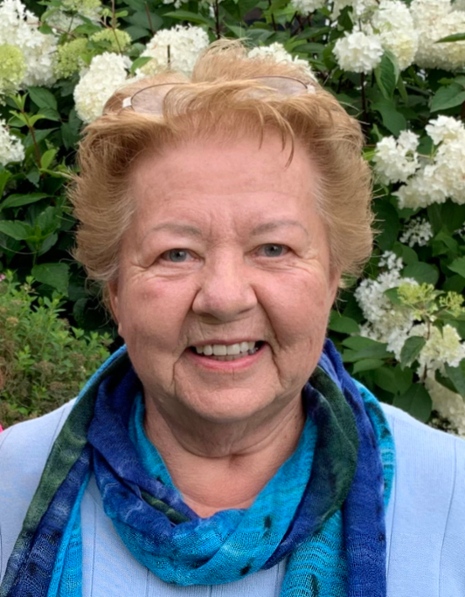 Denise Nahirney
(nee Aschenbrenner)    
Submitted by Bill Nahirney  
A life well lived and a life well loved.  Denise Cecile Nahirney was a trailblazer and a pioneer of women.  She was a private pilot, a businesswoman and community leader.  She was recognized with the City of Kelowna Woman of the Year and the Kelowna Arts Council Awards.  Most importantly she was a loving wife, mother, grandmother, sister and loyal friend.   
Denise's home and heart were always open for others.  She was, throughout her lifetime, a leader in the community, a connector of people, a giver to others, a builder of family and home.   
Denise was born in Anaheim, Saskatchewan where her father ran the General Store. She excelled in school, skipping a grade and attending Bruno girls school.  She moved to Saskatoon where she attended the University of Saskatchewan, graduating with a Bachelor Degree in Social Work in 1961 and working around the province in her field. Father Finn was Denise's mentor and counselor. When Bill met Denise at University, he knew she was the girl of his dreams.  They married in 1962 and lived in Wisconsin, Toronto and Winnipeg before settling in Kelowna in 1969.  Their first daughter, Lois arrived in 1963, followed by Douglas in 1966, Patrick in 1967 and Lynnette in 1971.  Denise's family was her pride and joy.  
While in Winnipeg, Denise joined Bill in earning her private pilot's licence and was one of the first women in that city and the country to earn her wings. Bill and Denise flew across the country in their different planes over the ensuing decades.  Denise worked with Bill in their companies Apex Engineering and Apex Helicopters, and later went on to work at the Kelowna Art Gallery, Kelowna Orchard Museum, and numerous volunteer jobs.   
Denise joined the University Women's Club (CFUW) in the 1980s and was an active member over decades, acting as Kelowna President and the Western Canada Regional Vice President and representing Kelowna at the 100th anniversary of CFUW.  Denise was also active with the John Howard Society, Kelowna Arts Council, East Kelowna Irrigation District, SPCA, Probus, Book Club and many more.  Her favourite hobbies were reading and playing bridge with her friends.  
Among some of her life highlights, Denise traveled behind the iron curtain to Russia in 1976, climbed Machu Pichu in Peru in 1980 where she had a mystical experience, explored her homeland of Germany with her father, visited her kids in England, Yellowknife, Hawaii and around the world, rode an elephant in Cambodia, volunteered at a girls camp in Vietnam, and had a close encounter with Ogopogo in 1996 after which she became a member of the cryptozoology association and was quoted in several books.  
Denise leaves her adoring husband, William, and children Lois (Tom Dielschneider), Douglas (Joanna Nolan), Patrick (Elizabeth Hansen) and Lynnette (Justin MacKay), grandchildren Natalie, Levi, Kailyn, Cairns and Blake, siblings Woody, Charles and Ramona Aschenbrenner, and in-laws Mary, Peter, Leela, Annie, Helen, Leroy, Barb and Gary, along with many wonderful nieces, nephews, aunts, uncles and cousins.   
Denise was a special lady. She made a difference in so many people's lives.  She was always ready to help others with an open and loving heart. Her impact on her family and others will remain her legacy.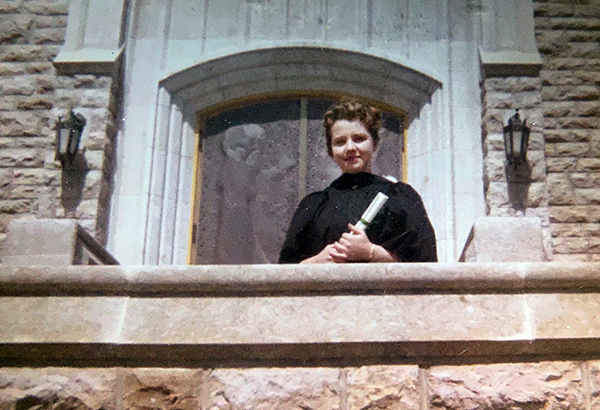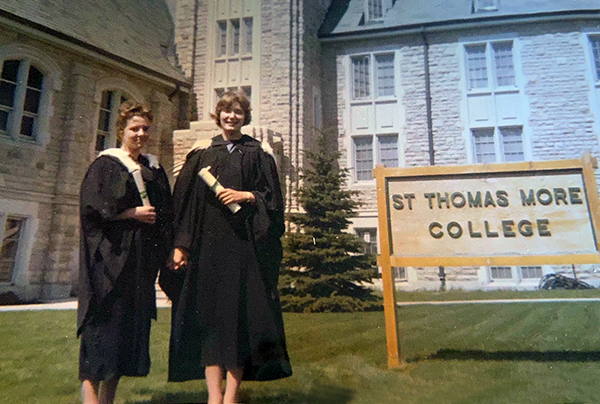 ---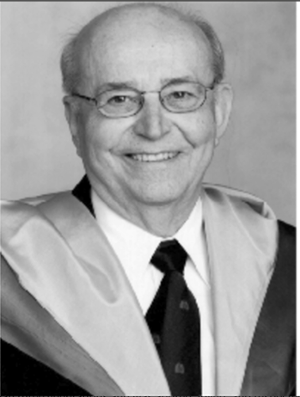 Dr. Michael Krochak, '53
A kind soul, a wise committed leader, faithful, respected, and much-loved. Just some of the many adjectives used to describe Dr. Michael Krochak.
Michael first attended St. Thomas More College in 1950, receiving his bachelor of Arts in 1953. During his time at STM he was very involved with the life of the college, including the Newman Club, Ulcers lunches, and Sunday evening socials.
After completing his BA, Michael entered the College of Medicine, receiving his medical degree in 1957.  He served as a family physician in Saskatoon for nearly 60 years.
An active member of St. Peter and Paul Ukrainian Catholic Church, Michael was also involved in many professional and community projects and organizations over the years including the Saskatoon Obnova Club; the Ukrainian Catholic Business and Professional Men's Club; the Saskatchewan College of Family Physicians; Saskatoon and district Medical Society and the Ukrainian Catholic Brotherhood of Saskatchewan.
Michael's community engagement included serving on Boards with the Knights of Columbus, the Greater Saskatoon Catholic School Board, the College of Family Physicians of Canada and the Ukrainian Medical Association of North America, along with many Ukrainian Catholic community projects such as St. Joseph's Home and St. Volodomyr's Eparchial camp.
Dr. Krochak received many commendations over his lifetime. Some highlights include being named the 2001 Family Physician of the Year by the Saskatchewan College of Family Physicians.  He was also recognized by the Ukrainian Canadian Congress Saskatchewan Provincial Branch and named one of the top 10 family physicians of the year by the College of Family Physicians of Canada.   
Michael and Marie Krochak remained good friends and generous supporters of student awards at the College, and the Prairie Centre for the study of Ukrainian Heritage (PCUH), an academic unit of STM.
In 2002, STM recognized Dr. Krochak as a Distinguished Alumnus for his outstanding lifetime achievements, having made a significant contribution to the community, and continuing to celebrate his relationship with the College.
At that event, Sr. Theodosa, administrator of St. Joseph's Home, called Dr. Krochak "a man of service, and  impeccable stature and standards, and noted that his colleagues were always inspired by his commitment to his medical practice and the care of his patients."
A true inspiration and beloved alumnus.
---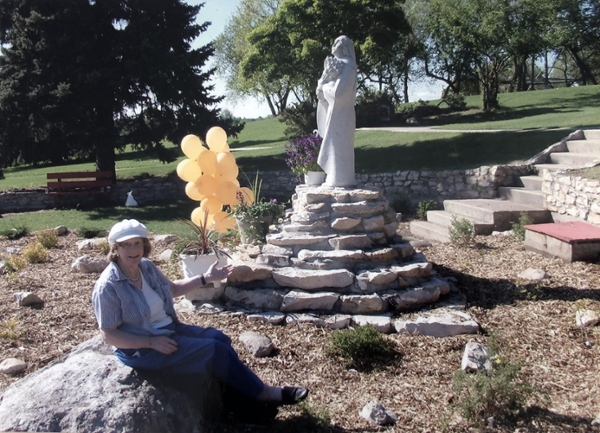 Anne T. Moran 
Anne, who passed away Feb. 10, 2021, first became acquainted with STM in the mid-fifties when she took up her position in the Science Library at the University of Saskatchewan. From that time onward she forged unforgettable memories in the hearts and minds of many of the administration, faculty, staff, students and worshipping community who call STM home.
Anne, in her early days at STM, particularly appreciated the relationships she had with the Basilian priests who shared a common Irish heritage with her.  Over the years, as Anne became familiar with all those in the STM community, fostered particularly close relationships with the custodians, cooks, chefs and groundskeepers whom she constantly encouraged to keep things up. Always curious, always caring, always believing that those who served must be appreciated as the individuals they were, came to know not only these individuals but also their families whose birthdays and special occasions she always acknowledged. 
And Anne herself loved celebrations! She loved STM for its Red Mass, its Academic Mass, its Easter and Christmas liturgies while in part because of the tradition and solemnity of these events, but also, and importantly, for the feast and fellowship associated with them. Anne believed with her whole heart and her whole soul that Jesus showed us how to bring peace to earth: pray always and provide food with accompaniment to all around you.  She spent decades as a participant in all STM had to offer because she felt her prayer ministry was facilitated and accepted by most and because she never really needed a ticket for any function given there. She would always be fed, no questions asked and her prayers for others would always be appreciated. 
Anne enjoyed meeting young people, listening to them, counselling them, encouraging them, praying with them. Many were the library fines she paid on their behalf and many was the meal she would share with someone she thought needed it.   
Anne was many things to many people at STM. To all of us she was someone always here, praying with us, celebrating with us, studying with us, leading us, following us, laughing and crying with us.  Like the mortar in the bricks of our walls her presence helped hold us together. May her memory continue to support us and may we, from time to time, consider the quote which so often she gave to those she met in her prayer ministry:
Christ has no body now but yours
No hands, no feet on earth but yours.
Yours are the eyes through which he looks with compassion on this world.
Yours are the feet with which he walks to do good.
Yours are the hands with which he blesses all the world.
Yours are the hands, yours are the feet, yours are the eyes, you are his body.
Christ has no body now on earth but yours.
Teresa of Avila
---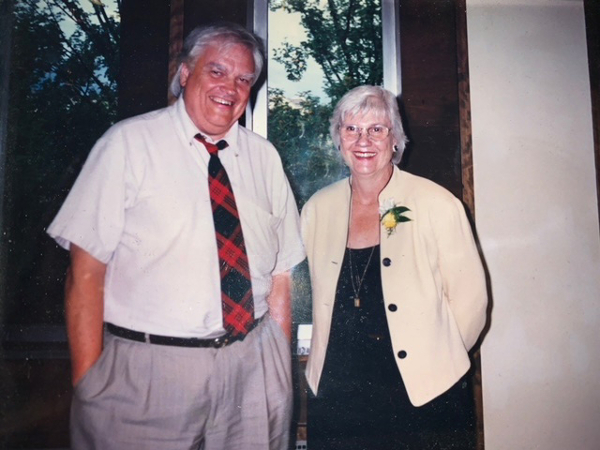 Lorna Stack
It is with great sadness that the family of Lorna Stack (Kerr) announces her peaceful passing on Dec. 20, 2020.
Lorna was born on Aug. 12, 1939 in Saskatoon. She grew up in the Nutana area and attended St. Joseph elementary school, Nutana Collegiate, St. Thomas More College and the University of Saskatchewan.
During her time at St. Thomas More College, a young man bet his friends that he could get Lorna to go on a date with him. John Stack asked, and she accepted. They married at St. Joseph Church on Aug. 5, 1961 and raised six children together.
Lorna was a loving daughter, sister, wife, mom and friend. She gave her family so much and many wonderful places, memories and traditions. From spending summers holidays at Jeannette Lake, hiking in Rogers Pass, playing in the Pacific Ocean in Hawaii, to the magic she brought to our Christmas Eve celebration. She made sure we experienced the joys of life together.
She was a wonderful baker and while she did not love it, she was an amazing cook. She loved gardening, and her yard was truly beautiful. She loved to buy local art and her home was filled with it. She contributed to her community in many ways, including taking Parkridge Care Home residents to weekly mass.
Lorna had great affection for all her friends including Mildred Kerr, Inga Kramer, Pat Keenan, Patty Thompson, and Anne DeCoteau, as well as her cousins, Lynda Moffat and Elaine Murray. She loved her cat, Pancake, very much.
Lorna was preceded in death by her father, Cameron Kerr; mother, Kitty Kerr; brother, Don Kerr; father- and mother-in-law, Ambrose and Bertha Stack; husband, John Stack; daughter, Jennifer Stack; and her cat, Pancake. She is survived by her children, Caroline (husband Don, children Katherine, Anne, Tom and Elizabeth), Janice (husband Gerard, son William), Robert (wife Marion, son Nicolas), David (wife Andrea, children Jennifer, Andrew and Rebecca), and Marie (husband Darin, girls Rose and Juliet).
---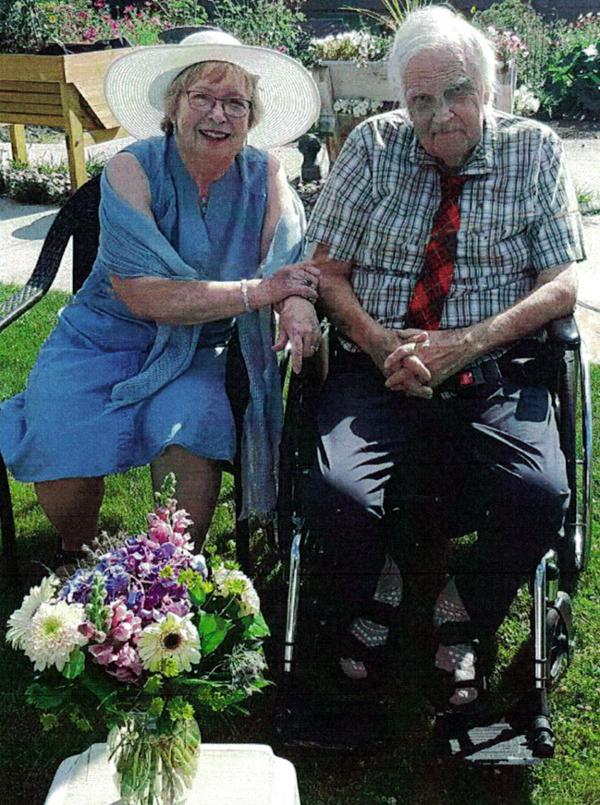 Don Kerr, SOM
Don Kerr registered at STM in 1953 at the old white house on College Drive.  His future achievements all started when Father O'Donnell taught him English 2.
Don loved STM's support of students, the Basilian Fathers, and the access to all classes afforded by its affiliation with the University of Saskatchewan.  He graduated from STM in 1957 and went on to complete his MA from St. Michael's at University of Toronto.
Friendships formed at STM last a lifetime.  Don's included Leonard LeGault, Neil Ross,Ray Kutz, Jerome Atrens, Marcel de la Gorgendiere and Joe Dierker, to name but a few. 
Don married Mildred McNamee (STM 1959 and 2001 STM Distinguished Alumna) on Aug. 13, 1960, officiated by Father Finn at St. Joseph's parish on, the Saturday Don got his first paycheque teaching English 2 at summer school.
Many former students said Don was their favorite teacher at USask. Besides teaching well researched English classes for 42 years,  English 2, British and Canadian Drama and Film Classes, he was prodigious writer, authoring nine books of poetry, and had five plays produced. 
Don co-wrote Saskatoon:  The First Half Century with Stan Hanson.  Later he wrote A Book in Every Hand:  Public Libraries in Saskatchewan for the Provincial Library Board.  He also convinced then Mayor Cliff Wright to buy the Marr Residence, the oldest house still on its original location, and now a museum.  He was first chair of Saskatoon City Council's Heritage committee, and first chair of Saskatoon Heritage Society and served six years on National Heritage Advisory Board. 

He edited Saskatoon History Review for 16 years until 2019 and edited writers for Grain, Coteau Books and NeWest Press and NeWest Review for many years.
Don and Mildred celebrated their 60th anniversary on Aug. 13, 2020, renewing their vows as lifelong friends looked on.
---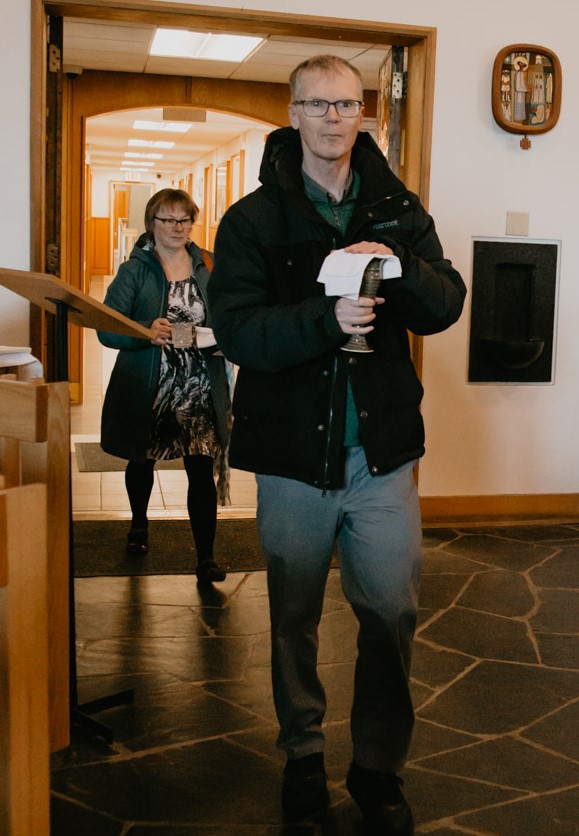 Bruce Gordon, '83
Please keep STM alumnus ('83) Bruce Gordon and his family in your thoughts and prayers. ​While Bruce may have graduated in the eighties, he and his wife Deb maintained an ongoing connection to STM through their participation in the STM Worshipping Community. They drove up from Regina every weekend to participate in STM liturgies where Bruce volunteered as the ministry coordinator. He was a true leaven in the community as he coordinated, trained, and invited people into the liturgical ministries. Most of all, he was a beacon of hospitality to all who encountered him at the doors of the STM Chapel.
Bruce was a Registered Doctoral Psychologist and an active member of the communities of Saskatoon and Regina until his death on May 29, 2020. After practicing as a psychologist in Saskatoon for many years, Bruce relocated to Regina, where he worked at Randall Kinship Centre and Child & Youth Services. In recent years, along with Tara Turner, Myrna Willick, and Rose Roberts, Bruce co-led a number of talking circles for the psychology communities of Saskatoon and Regina. These circles helped to promote understanding of cultural diversity and to redress, through relationship and community-building, the long history of racism affecting Indigenous peoples in Saskatchewan. Bruce was generous with his time, resources, and kindness, including providing a keynote address at the 2019 Faculty and Staff Retreat.
He will be greatly missed by the psychology community, the STM Worshipping Community and by all of the communities to which he contributed.
Follow links below to learn more about Bruce's tremendous impact.
https://thestarphoenix.remembering.ca/obituary/bruce-gordon-1079291532
https://thestarphoenix.com/sports/local-sports/u-of-s-huskies/obit-bruce-gordon-was-long-time-voice-of-the-u-of-s-hockey-huskies
https://ocnarchives.usask.ca/03-feb-07/feature06.shtml
https://www.ckom.com/2020/05/31/bruce-gordon-longtime-voice-of-huskies-hockey-dies-at-age/
---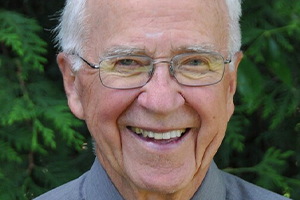 J. Frank Roy, '48
J. Frank Roy (BA'48, BEd'53, MA'68) was the recipient of the St. Thomas More College (STM) Distinguished Alumnus Award in 1992.

Roy noted at the time, that superb teaching at St. Thomas More College broke down traditional notions of looking at things and forced one to think for oneself. Formative influences from Father O'Donnell, Father Carr and Father Cullinane nurtured not only intellectual and spiritual growth, but character. For Roy, STM was the place that instilled in him the genuine notion of Christian charity and generated in him the development of a social conscience. Roy said, "As we move into the next century, our two most important resources are our environment and our children". This statement captures the dedication of his professional and personal life in pursuing his two great loves: teaching and observing the beauty and serenity of the natural environment. Frank contributed generously and successfully to his students and the broader community for generations as a caring, compassionate soul with a warm sense of humor.

In addition to publication "Birds of Elbow" and "Birds of Saskatoon", Frank Roy was proud to be co-editor of the acclaimed book "Birds of Saskatchewan" published in 2019, the result of more than ten years of work and several lifetimes of observation, research, and writing. STM is proud to have a signed copy of this book in the STM Shannon Library, donated and dedicated to Roy in his honor.
Full Obituary https://thestarphoenix.remembering.ca/obituary/frank-roy-1079007912
---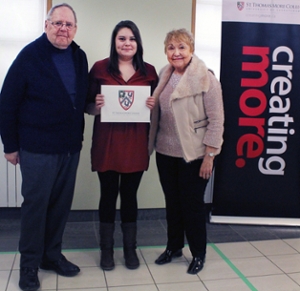 Peter Dielschneider, '54
The STM College community mourns the loss of Judge Peter Dielschneider. He will be missed.
As a student, Peter Dielschneider was involved early on with the STM College community, serving as president of Newman Centre, and assisting with the student food cooperative. Dielschneider obtained his law degree in 1953 from the University of Saskatchewan and a Bachelor of Arts in 1954 through STM.  Dielschneider returned to the College serving on St. Thomas More College Corporation, College Council, and the STM Board of Governors, from 1969 – 1972. He also served on STM Corporation as a Member-at-large in January of 1979, followed by various committee positions in the years to follow.
A great friend of St. Thomas More College and student advocate, in 2011, the College recognized Judge Dielschneider's outstanding achievements, exemplary service and community contributions, in naming him STM's Distinguished Alumnus. In addition to years of community service, and a committed focus on faith and family, his professional achievements post-graduation were also lauded. Dielschneider practiced law and became Mayor of Melville and was later appointed to the Court of Queen's Bench where he served as a judge of that court until his 75th birthday.
Judge Dielschneider's legacy at STM continues through the Dielschneider Aboriginal Scholarship and Bursary awards established in 2007, supporting Catholic Aboriginal students, celebrating their academic endeavours and achievement. Reflecting his commitment to youth and education, he was enthusiastic in celebration and always took time to engage with the student recipients at the award events at the College.
The full obituary can be found here: https://thestarphoenix.remembering.ca/obituary/peter-dielschneider-1078488404.
---
REMEMBERED WARMLY
 Arthur Dumont, 1945-2019
Ralph Ecker, 1940-2019
Elizabeth Theresia Lottie Sacco, 1935-2019
Betty Sells, 1936-2019
Fr. Martin Dimnik, CSB, 1941-2020
Elizabeth Elder, 1934-2020
Donald Kerr, 1936-2020
Robert Joseph Koster, 1936-2020
Sylvester Kulyk, 1938-2020
Rosemary Gerwing Lalonde, 1929-2020
Terrence Leier, 1942-2020
Thomas Powrie, 1933-2020
William Edward Sinnett, 1939-2020
Lorna Stack, 1939-2020
Robert Theodoor Vanderham, 1927-2020
Michael Krochak, 1931-2021
Anne Moran, 1923-2021
Juliette Poulin, 1926-2021
Susan Robertson, 1955-2021