Upcoming Events
Office of Development and Alumni Relations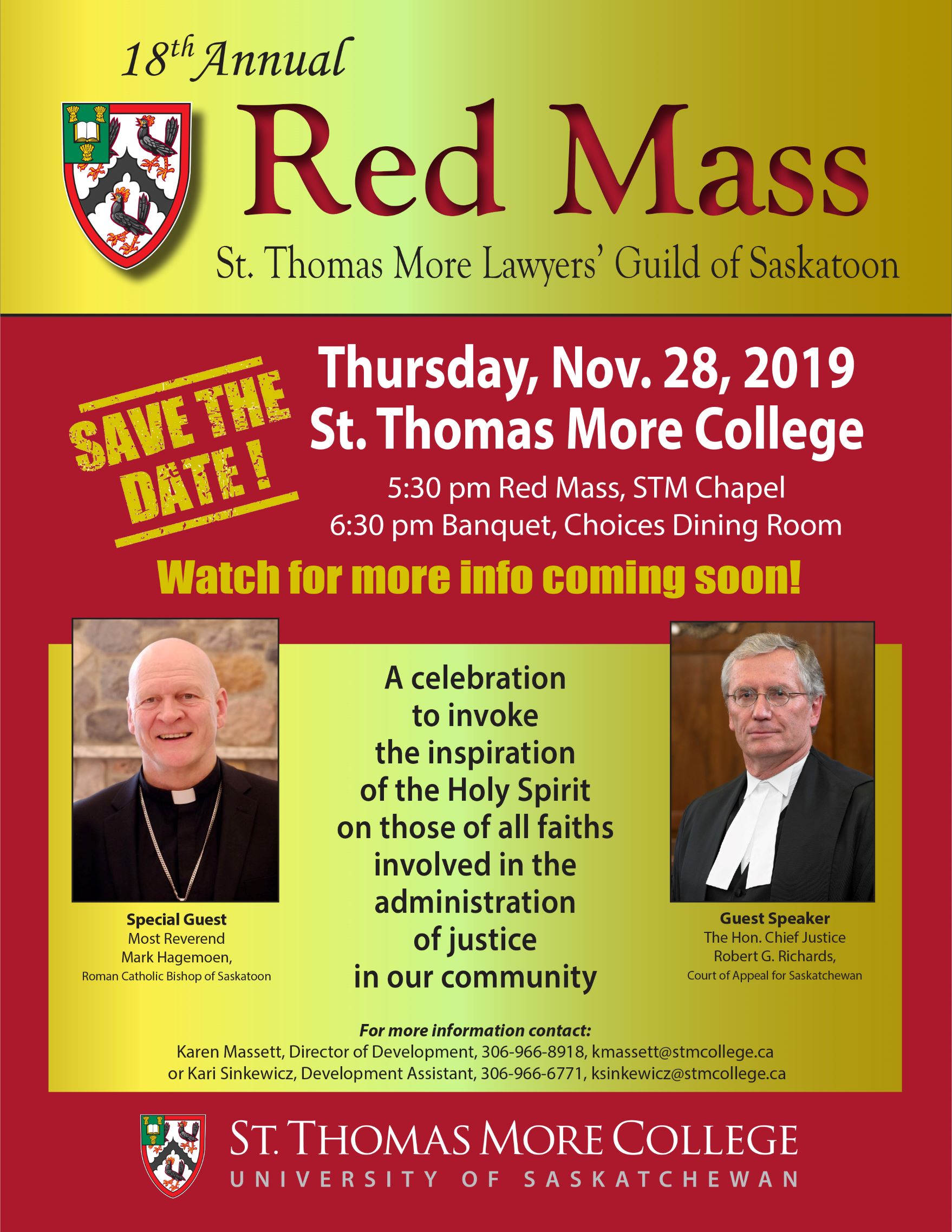 2019 Red Mass
Thursday, Nov. 28, 2019
A celebration to invoke the inpsiration of the Holy Spirit on those of all faiths involved in the administration of justice in our community. This event is hosted by the St. Thomas More Lawyers' Guild of Saskatoon with the support of the STM College Development Office
GUEST SPEAKER: The Hon. Chief Justice Robert G. Richards, Court of Appeal for Saskatchewan
SPECIAL GUEST: Most Reverend Mark Hagemoen, Roman Catholic Bishop of Saskatoon
The Divine Liturgy will be celebrated in the STM Chapel at 5:30 pm. Following Mass, a banquet and program will be held at Choices - STM's cafeteria beginning at 6:30 p.m.
The Red Mass was introduced in England in 1310, during the reign of Edward I. It is celebrated now, as it was then, to invoke the inspiration of the Holy Spirit on behalf of those involved in the administration of justice.   
Each fall STM collaborates with members of the St. Thomas More Lawyers' Guild, and the wider legal community, to celebrate Red Mass. The St. Thomas More Lawyers' Guild of Saskatoon was incorporated in June 2002 by a group of local Catholic lawyers. The Guild seeks to foreground integrity and the highest ethical standards in the practice of law, as well as the administration of justice, as exemplified by its namesake St. Thomas More. 

Each year members of the Lawyers' Guild generously purchase tickets for students who are currently enrolled in the College of Law or considering enrollment. Students greatly appreciate this kind gesture. They enjoy the presentation and the opportunity to network with the legal community.
Please purchase tickets HERE
Past events
2018 Red Mass
Nov. 19, 2018
GUEST SPEAKER:Dr. Peter Stoicheff President, University of Saskatchewan
SPECIAL GUESTS: Bishop Mark Hagemoen, Roman Catholic Diocese of Saskatoon, Bishop Bryan Bayda, Ukrainian Catholic Eparchy of Saskatoon
Presentation of STM Distinguished Alumni Awards
and STM Medal
Corporation Banquet,
Nov. 3, 2018
The Thomas More medal was established "to recognize and honour persons, groups of persons, and organizations who have combined personal qualities of care, integrity and faith with significant contributions to community and public life." (STM Medal Criteria) 
The STM Distinguished Alumni awards are presented annually to both a female and male graduate of St. Thomas More College whose lifetime accomplishments and achievements have been outstanding, who have made a significant contribution to their community, and who have continued to celebrate their relation - ship with St. Thomas More College. The STMNAA is pleased to announce 2018 recipients, Rhonda Gough & Trevor Herriot. Both are exemplary individuals whose dedication and life-work reflect the values and benefits of the education received through the high-quality learning experience offered at STM. This award recognizes the truly outstanding achievements of these STM graduates whose endeavours have distinguished them in both their chosen profession, and community.
2018 President's Gala
June 8, 2018
The St. Thomas More College (STM) President's Gala was held June 8, 2018 in the Adam Ballroom of the Delta Bessborough Hotel. The evening included a Champagne reception on the outdoor terrace, four course gourmet dinner and a special performance by world renowned artist Anna Maria Kaufmann, Tenor Jorge Jimenez, Rene Giesen, and several other musicians.  The Gala proceeds will support STM student scholarships and bursaries.
Special guest, Anna Maria Kaufmann is a world-renowned artist, whose accomplished career includes lead roles in some of the most celebrated musicals of our time and noted success with a triple platinum album. Anna Maria is a celebrated artist in Europe for her beautiful and captivating voice, merging classical and pop music.
President Terrence Downey began his first term as President of St. Thomas More College in 2011. Under Dr. Downey's progressive leadership STM has experienced continued growth and transformation. In July of 2018, Dr. Downey retired.