In the Spotlight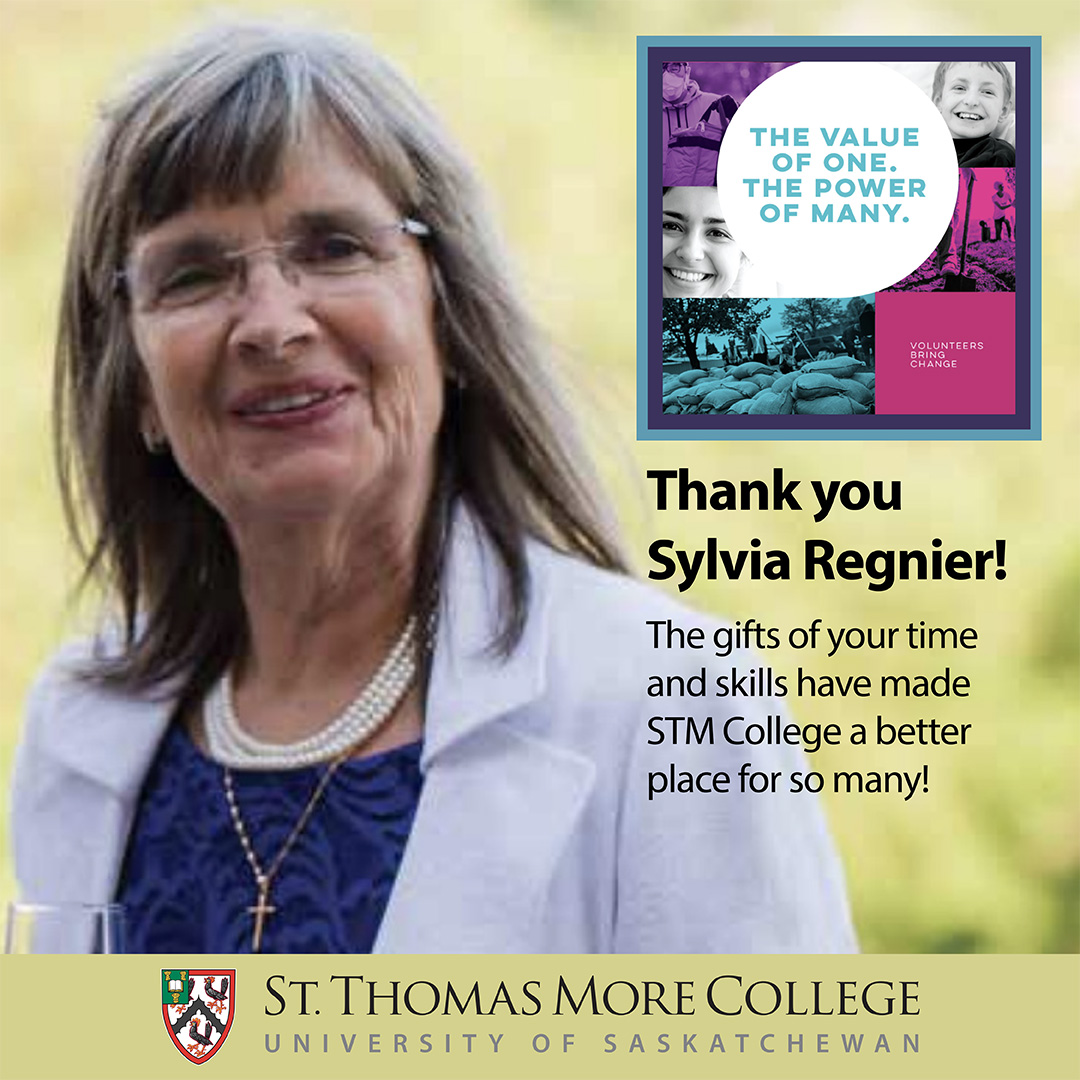 During National Volunteer Week 2021, St. Thomas More College would like to honour longtime volunteer Sylvia Regnier.
The staff, faculty, alumni and students of STM owe a debt of gratitude to a passionate supporter of the College.
Regnier ('70) has served as the St. Thomas More College Newman Alumni Association Committee representative on STM Corporation for six years, with her second term ending on Dec. 31, 2020.
"We hope that it brings Sylvia great joy to know that she has had a tremendous impact in the STM community, particularly in the lives of students," said Kari Sinkewicz, Manager of Development and Alumni Relations. "Sylvia continues to serve on the STMNAA committee, and we are pleased to celebrate her tremendous generosity through her volunteerism, advocacy, and caring donations to support the College."
Regnier, who is also a past president of the STMNAA, said that serving the STM College community as a volunteer has been very enjoyable and intellectually stimulating over the years.
"Through the STMNAA committee, and serving on STM Corporation, I have learned so much about the history of the College and I'm pleased to continue to be an active, engaged member of the STMNAA committee," said Regnier. "I would encourage anyone else considering this opportunity to get involved. I genuinely feel I've gained more from serving on the STMNAA and from the students than I have given."
Get Involved!
You are invited join the STMNAA committee today!
The STMNAA committee welcomes other alumni to join this active group of volunteers who work to support and develop creative initiatives that benefit alumni and the College.
This dedicated group of alumni is committed to building a strong social, intellectual, and spiritual community of STM and Newman Alumni by encouraging their lifelong involvement with the College and with each other.   
Join today and reconnect with fellow alumni, make new friends and help make a real difference in the lives of STM alumni and students. 
For more information on how you can become involved with YOUR alma mater, contact: