The STM Distinguished Alumni Award is awarded annually to each a female and a male graduate of St. Thomas More College whose lifetime accomplishments and achievements have been outstanding, who have made a significant contribution to their community, and who have continued to celebrate their relationship with St. Thomas More College since their graduation.
This award recognizes the truly outstanding achievements of an STM graduate whose endeavors have distinguished them in their chosen profession or community. 

The Award is presented each year at the Corporation banquet to a STM alumnus and STM alumna who has achieved outstanding accomplishments in his or her professional and personal lives, and who has been an inspiration to fellow alumni, current students and the community. 
The 2019 recipients of the STM Distinguished Alumni Award are Jennifer Duggleby and Roger Trottier.
Roger Trottier, Alumnus of Distinction, introduced by Madelaine Blais-Dahlem
Over the course of his 60 year career, Roger Trottier has been, a high school teacher, a curriculum developer, a college professor, a program administrator, a school consultant, a video producer, an illustrator, a long distance education specialist, a community arts teacher, and always, and throughout, an artist.
As a teacher Roger leads students into a discovery of themselves, all the while instilling in them a belief in their own worth and potential. His lifelong friend, Photographer John Perret, who started out as a student of his at Feehan, describes Roger as a facilitator as his generous personality helps people find a direction and purpose. When talking to Roger nothing is beyond reach; his influence and contributions have gone beyond what a single person could do in the classroom because he was a curriculum developer and teacher trainer.
For close to 20 years, he was the heart of the U of S - Indian Teacher Education Program which included the ITEP Distance Education program. The drive to create systems and programs so that First Nations students could get an education and become teachers in their own communities was a constant in Roger's professional life. His expertise led to him to being offered contracts in Alaska for project Sivunmun, the Alaska Native Education Program, where his responsibilities included designing the programme, coordinating stories from Elders, and then saving and integrating that cultural richness into curricular material, including illustrated books.
Roger is also a talented artist and has been a painter for his entire adult life. It was always an element in his teaching and professional contracts, and his connection to and rendition of the natural world. In 2007, his painting career took a mighty leap forward when he joined a trio of friends and his son Roger, to become "Men Who Paint". As a group of five, they are recording and recreating the rugged physical beauty of Canada. Included within that multifaceted vision, there is a consciousness of the presence of the First Nations and of their history. As a group, they've been "Halfway to Heaven" at the Ivvavik National Park in the Yukon, near the Beaufort Sea and they've travelled up the Churchill river system to sites of Indigenous rock paintings, and recently spent ten days in Haida Gwai.
Because these painters work outside, they are described as "plein air" artists. The word "plein" means "full" and it is a fulsome word and it generally connotes "to the max" and of course "air", refers to the air we breathe, to that which keeps us alive. So, when the "Men Who Paint" are "en plein air", they are where the world is immediate and unfiltered, they are trying to capture directly onto the canvas what they see before them, and they must be fully present and alive. I believe that Roger has been "en plein air" in every aspect of his life. Every where and always, he has been fully present, fully engaged and his gifts continue to enrich all those whose lives he has touched.
STM celebrates Roger Trottier as the 2019 Distinguished Alumnus!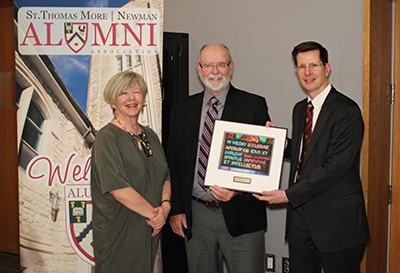 Jennifer Faye Duggleby, Alumna of Distinction, introduced by Art Battiste
Jennifer Faye Duggleby is a woman who not only maintains an outstanding career as a teacher, actor, singer and committed Christian, but who also serves as a role model and an inspiration to her fellow alumni, to women who are now students at STM and the University of Saskatchewan, and to the Saskatoon community at large.
Jennifer completed her university education in 2001 with a BSc in biology and a BEd. During her six years on campus she spent much of her time at STM and she notes that it was here that she learned the true meaning and value of community.
As a teacher at St. Joseph's High School, Holy Cross High School, and Bishop James Mahoney High School, Jennifer excelled in teaching Biology, Chemistry, Health Science, and Environmental Science.  Truly committed to the benefits of Catholic intellectual tradition, Jennifer continues to bring her Grade 12 students to STM for an annual retreat and learning experience.
In addition to teaching, Jennifer Duggleby is a stage star. She has been on stage for more than 30 years, co-directed 2 major stage productions, and choreographed and directed the musical, Godspell.
A talented pianist, Jennifer has been very active in the life of Our Lady of Lourdes parish, especially in the music ministry.  She and her husband have two children and considering Jennifer's talents, it is not surprising that they too are especially talented both musically and academically.
Congratulations Jennifer, on being recognized as the 2019 STM Distinguished Alumna!