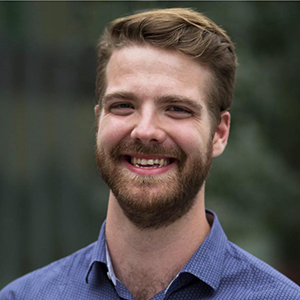 Connor Moen is a former St. Thomas More College (STM) student and served as president of the University of Saskatchewan Ukrainian Students' Association. Since his graduation he has gone on to become executive assistant to the chief of staff at Natural Resources Canada in Ottawa.
Moen recently participated in a round table discussion on promoting the Ukrainian Studies program in which he participated while at USask. The program is the only one in the province and is hosted at STM.
When asked why students might want to pursue Ukrainian Studies, he said Saskatchewan is unique because so much of the population identifies as Ukrainian.
"Now that I live in Ontario, I truly understand how present Ukrainian culture is in Saskatchewan. Ukrainian culture is Saskatchewan culture," said Moen. "Typically, those with Ukrainian extraction have a connection to this area of study. I loved it because I felt close to home and connected with my culture and language."
St. Thomas More College is the only college at USask that offers Ukrainian Studies. Students can achieve a minor in Ukrainian Studies or study the language to fulfill the second language requirement for their BA in Arts and Sciences. There is also an intensive, five-week Spring Session in Ukraine program that offers real world experience with the culture and language of Ukraine.
The study of second languages is fundamental to an education in the liberal arts, to citizenship in a multicultural nation, and to understanding an increasingly close-knit world. Ukrainian language courses can be used towards satisfying the Language Requirement in Linguistics, Modern Languages or a minor in the aforementioned Ukrainian Studies.
For Moen, participating in Ukrainian Studies proved advantageous early in his career in making connections and compiling valuable experiences.
"The content is relevant and interesting and applied to so many concepts like history anthropology and such," Moen said. "If you participate in this program you open yourself up to so many doors. This program was a huge advantage for me. I was given the opportunity to work with the Ukrainian Canadian Congress (UCC) and Ukrainian Canadian Students' Union (SUSK) to really build my resume, and now I work on Parliament Hill. My job may not be directly related to anything Ukrainian, but I still credit my success to my experiences with Ukrainian Studies."
Nykole King is a former Ukrainian Studies student and a participant in the Spring Session in Ukraine (SSU) program.
King said she was able to use Ukrainian Studies as an area of specialisation within her degree in International Studies.
"It helped with making connections because I had my eyes set on a job with immigration and law. One of my summer employment positions was with the Ukrainian community. I was able to tap into the alumni community and network and I know there's a whole community supporting me. Having this experience, you look adaptable on a resume, which employers love. I still talk about how I had to adjust to a whole new environment with SSU in my job interviews."
Students who participate in the SSU program can earn up to nine credit units in just 5-6 weeks, all while studying abroad and experiencing another culture on a deep level.
Students of Ukrainian culture, history and language can find further support through the work of the Prairie Centre for the Study of Ukrainian Heritage (PCUH).
At the level of research and scholarship, PCUH provides individual support; disseminates the results of research conducted under its auspices; organizes symposia, conferences and exhibitions; promotes dialogue between various disciplines, perspectives, and communities; and encourages young scholars specializing in the area by providing scholarships at the graduate level. The Heritage Press serves as the publishing arm of the PCUH. The PCUH also has an important outreach component in its programming mandate, working with the community on special projects and events. All programming at the PCUH is supported by endowments as well as individual contributions.
----
Visit the Ukrainian Studies program on Facebook HERE

Anyone interested in finding out more is invited to check out STM course offerings under Ukrainian Studies HERE.
For more information on PCUH, visit the website HERE.