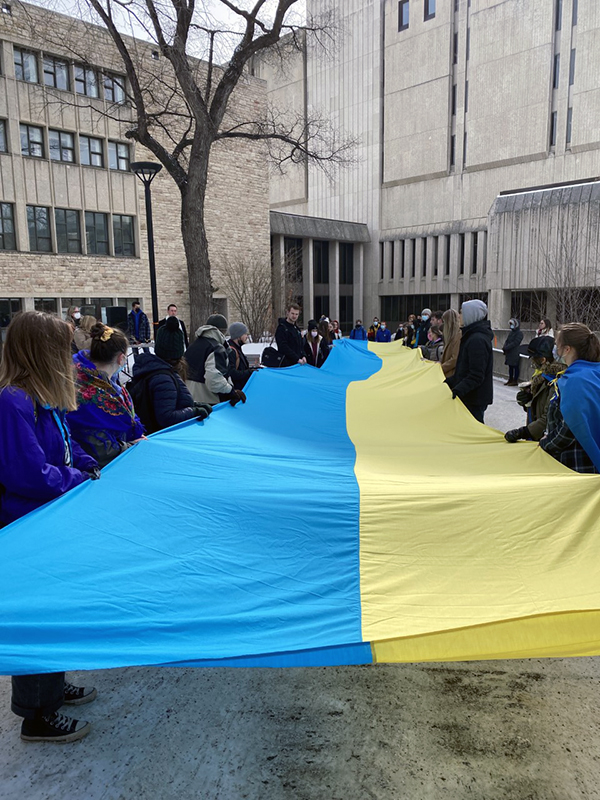 More than 100 students, faculty and staff gathered around the Lesya Ukrainka statue beside the Murray Building on Thursday to take part in the Stand With Ukraine rally.
The event was organized by the University of Saskatchewan Ukrainian Students' Association (USUSA) in response to the Russian invasion of Ukraine. USUSA president Jensen Beaudoin hosted the gathering and thanked the Saskatoon community for the outpouring of support for Ukraine.
The event began with a prayer from Fr. Andre Lalach, STM Campus Minister, and member of the Ukrainian Catholic Church.
Fr. Lalach prayed:
Lord God we ask you to hold the people of Ukraine deep in your heart.
Protect them, we pray from violence, from political gamesmanship, from being used and abused.
Give, we pray, the nations of the world the courage and the wisdom to stand up for justice and the courage to dare to care generously.
Lord, in your mercy take from us the tendancies that seek to lord it over others. Take from us those traits that see us pursuing our own needs and wants above those of others.
Teach us how to live in love and dignity and respect, following your example. Pour the spirit of peace into the hearts of all.
In your name, and for your sake, Amen.
Also speaking at the rally was Marta Krueger, USUSA secretary, who recited the speech given by Dr. Bohdan Kordan at a recent rally in front of City Hall. (See Dr. Kordan's remarks HERE)
Dr. Nadya Foty-Oneschuk, Interim Director of the Prairie Centre for the Study of Ukrainian Heritage, also spoke at the rally, urging her fellow Canadians to come to the aid of the Ukrainian people:
"As this unprovoked war persists, it is incumbent on all Canadians to raise their voices – in support of those fighting for their lives and the lives of their children and grandchildren; in support of the Canadian government, in concert with others, to not only condemn and take steps to stop the maniacal actions of Mr. Putin, but to send aid to a population that is already experiencing a humanitarian crisis on an astronomical scale, one whose reverberations will be felt across Europe and the West for years to come."
(See Dr. Foty-Oneschuk's full remarks HERE)
The event ended with a heartfelt singing of the Ukrainian national anthem.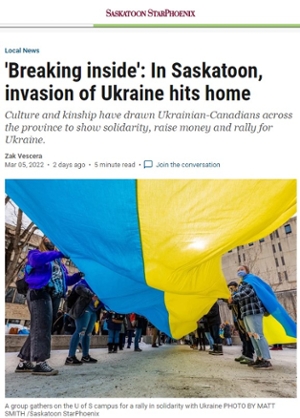 STARPHOENIX STORY:
"When I think about what they're going through, I feel like I'm breaking inside"