An academic lecture series at STM to share research across disciplinary boundaries.
Dr. Daniel Regnier, Associate Professor and head of the Languages, Literatures and Cultural Studies Department at STM College, will deliver a talk titled: Music, Meaning and World.
The event also include Special Guests Elixer Ensemble performing Regnier's new piano quartet three movement composition titled Trees by Northern Waters.
Elixir Ensemble features: Peter Hedlin (cello), Kathleen Solose (piano),Oxana Ossiptchouk (violin) and guest player Sarah ter Velde (viola)
http://www.elixirensemble.com/
This event is free and open to all!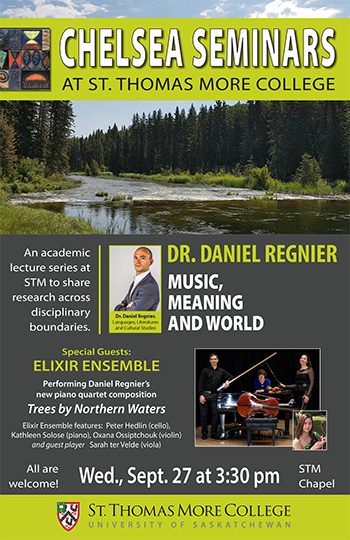 Event Details
When:

Time:

03:30 PM - 05:00 PM CST

Location:

STM Chapel