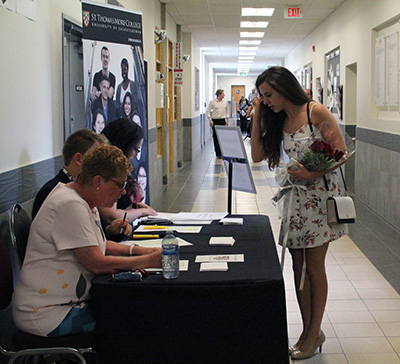 More than 30 graduates of St. Thomas More College received their reward for years of hard work Tuesday. After attending the afternoon graduation ceremony at Merlis Belsher Place to receive their USask degrees, the STM graduates and their guests attend the Spring Convocation awards ceremony and reception at the College.
In his address to the graduates, Dr. Carl Still, STM President, noted they had been changed since the beginning of their academic careers, and said the degrees they received were symbols of the growth they had achieved.
"You have been transformed by everything you've learned, the relationships you've formed, the experiences you've had, the decisions you've made," said Dr. Still. "As you graduate today, you are well prepared not only to succeed in the careers you pursue and to make good lives for yourselves, but also to start transforming the society in which you live. You have the necessary skills; you have the motivation; and as President Peter Stoicheff said at Convocation, the world needs graduates like you more than ever before. To which I would add only: If you want to see change in the world, don't wait for other people to do it; it might never happen. Become an agent of change yourself!"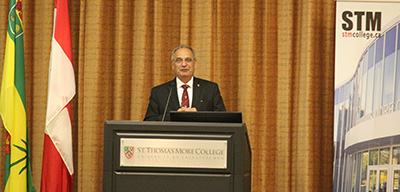 Art Battiste, president of the St. Thomas More-Newman Alumni Association then welcomed the graduates to the ranks of the proud alumni of the college – some 9,000 strong. He said their time at STM would forever bond them together and would continue to guide the course of their lives.
"This College will never leave you; Wherever you go, whatever you do, you always will be an alum of STM and there always will be a bright spark within you that will be the spirit of St. Thomas More College," said Battiste. "We in the STM-Newman Alumni Association hope that you will return and return often to STM, and that you will take part in our association's activities, perhaps even becoming members of our executive. Most of all, however, we wish you health, happiness, and success in all your endeavors throughout your lives. God bless and keep you."
After the awards ceremony in the auditorium, the graduates, their guests, and the staff and faculty of STM shared a delicious meal together in the Choices dining room – always a fitting way to end a day of celebration!
Award Winners

Jason Fyfe, Right Reverend Monsignor Myroslav Kolodey Memorial Academic Prize
William Carlson, Thomas Deis '38 Prize in Scholastic Philosophy in Honour of Dr. Basil Markle S.T.D.
Ava MacLean and Ana Meckelorg, Thomas Deis '38 WWII Memorial Prize
Caitlyn Anhorn and William Eichorst, Fr. Henry Carr Award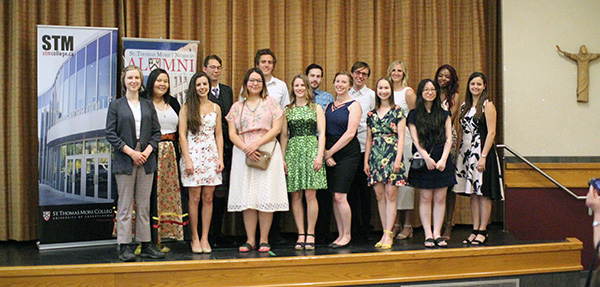 St. Thomas More College Students with the highest averages:
Valerie Rozwadowski, Anatomy and Cell Biology
Nathan Hendricks, Anthropology
Angela Burant, Archaeology (BA)
Maiah Tratch, Archaeology (BSc)
Jessica Benoit, Art History
Mathew Lubachowski , Biochemistry
Umar Tung, Bioinformatics
Regan Wiebe, Biology
Kudzai Matiza, Biotechnology, Microbiology & Immunology
Matthew Iverson, Business Economics
Benjamin Kmiech, Classical and Medieval Latin (Certificate)
Benjamin Kmiech, Classical, Medieval and Renaissance Studies
Yige Huang, Computer Science
Varda Malik, Economics
Nigel Town, English
Natasha Werbicki, Environment and Society
Hunter Stevens, Environmental Biology
Alice Zhang, Ethics Justice and Law (Certificate)
Marie Chatlain, French
Lyndsay Hauber, Geology
James Hawkes, Global Studies (Certificate)
Amelia Perrotta, Health Studies
Charli Nicholat, History
Amber Bellegarde, Indigenous Studies
Yao Jiang, Interactive Systems Design
Caylin Leia, International Studies
Ana Meckelborg, Linguistics
Cassidy Pirlot, Mathematics
Shiming Lin, Microbiology and Immunology
Elizabeth Smith, Music Education
William Carlson, Philosophy
Jason Fyfe, Physiology and Pharmacology
Kylie Phillips, Political Studies
Quinn Sully, Psychology (BA)
Chamin Wanasundara, Psychology (BSc)
Michaela Sidloski, Regional and Urban Planning
Cameron Turcotte, Religion and Culture
Stephen Thiessen, Sociology
Kendra Montgrand, Studio Art (BA)
Mila Pshebylo, Studio Art (BFA)
Jialin Liu, Toxicology
Kayla Peters, wicehtowin Theatre (Certificate)